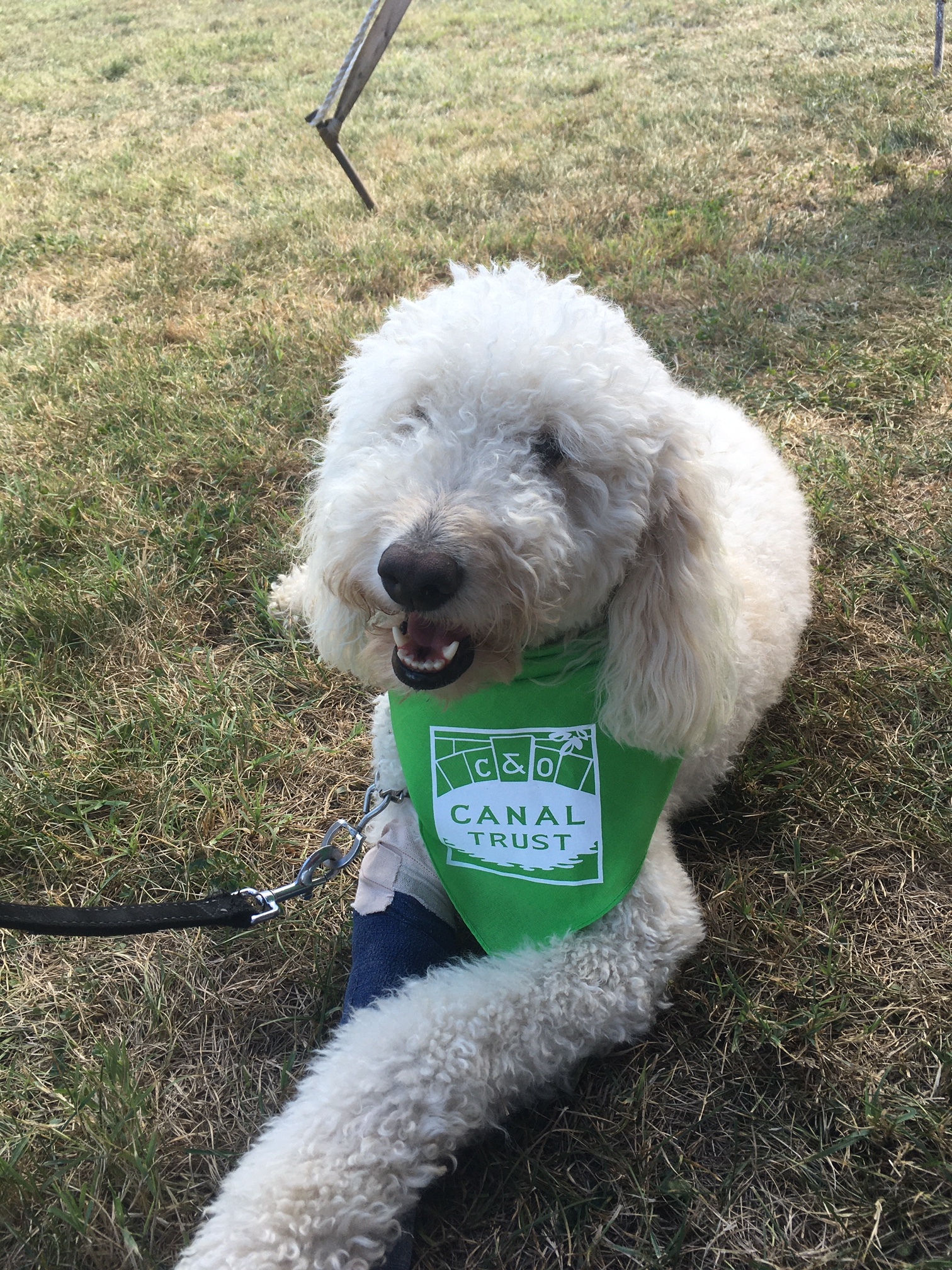 The C&O Canal National Historical Park (NHP) is filled with natural beauty, rich history, and recreational opportunities. Many visitors enjoy sharing the Park with their four-legged companions. However, ensuring a positive experience requires proper planning in order to recreate responsibly. The National Park Service asks that all visitors with pets remember to B.A.R.K.:
Bag your pet's poop
Properly bag and dispose of your pet's waste.

The Chesapeake & Ohio Canal NHP is a trash-free

P

ark

, and garbage cans are not available. Pet owners should plan ahead to clean up and remove their trash, leaving the Park as they found it.

Leaving bagged waste on the trail is littering. This includes parking areas, trailheads, signs, and milemarkers.

Pet waste left on the ground makes a mess for others and harms the water quality in the park.
Always keep your pet on a leash
Pets must be restrained on a leash no longer than 6 feet.

GPS pet trackers are not leashes.

Keeping pets on a leash protects people, plants, wildlife, and your pet.
Respect all animals
Keep your pet at a respectful distance from any wildlife or other animals you encounter.

Off-leash pets may spook horses or mules on the C&O Canal towpath.

Off-leash pets can injure and alter the behavior of wildlife in the Park.
Know the rules
Pets are not allowed on the Billy Goat Trail section A, or on the boardwalk to Great Falls.

Stay on marked trails. Going off-trail can damage sensitive plants and cause erosion. Pets are more likely to pick up ticks when off-trail.
These regulations and laws exist to keep pets, visitors, and park resources safe. There are no exceptions to the regulations for carried pets (in arms, carriers, strollers, backpacks, etc.) in restricted areas of the park. For more information, please consult the Superintendent's Compendium.

Please be mindful of weather conditions when bringing your pet to the park. Extreme temperatures, both hot and cold, can sometimes be dangerous to pets. Water fountains are available at some locations in the Park, but visitors should plan ahead and bring water for their pets.
Service Animals
Qualified service animals assisting visitors with disabilities are permitted throughout the Park and in all Park facilities. Service animals must be on a leash and picked up after.
Recreating responsibly with your dog in the C&O Canal NHP is not only about following Park rules but also about fostering a sense of stewardship for the natural and cultural resources. By knowing the regulations, keeping your dog on a leash, practicing good waste management, staying on designated trails, and being considerate of wildlife and other visitors, you can ensure a positive experience while preserving the Park's integrity. Let's cherish this remarkable resource and create lasting memories with our furry friends while following B.A.R.K. principles. By embracing these principles, we can continue to enjoy the beauty of the C&O Canal NHP  for generations to come.