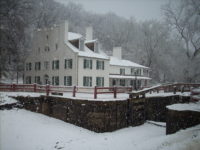 It's February, and spring is still weeks away. Sometimes the month brings a lot of snow; other times, there's none. Below, we bring you 10 of our favorite things to do at the Park in the winter:
1. Make Plans to Volunteer in the Park
A lot of vital work happens in the Park during the colder months! We're busy planning for Canal Community Days events and other spring and summer programming in the Park. There are many ways to volunteer — take a look at this list and choose one that appeals to you!
2. Take a Winter Stroll
Winter is typically a quieter time to get out and enjoy nature in the Park. We recommend bundling up and heading out on the towpath. This is your chance to see the beautiful landscape in a new light, perhaps decorated in glistening snow. Getting outside and connecting with nature is beneficial to your health, both physically and mentally. Who knows what beauty you may discover? We hope it'll inspire you to share a Canal Story with us.
3. Go Horseback Riding
What's better than traveling along the canal in the snow? Traveling with your best four-hooved friend is pretty great! Horses are allowed on the towpath from Swains Lock (milepost 16.6) to the last lock in Cumberland, although they are not permitted in the Paw Paw Tunnel. If you do go riding in the snow, send us your photos! Please check the C&O Canal NHP website for horseback riding regulations and any current closures.
4. Go cross-country skiing
Where else can you find a 184.5-mile-long smooth surface for skiing? Lots of snow isn't all bad, and the towpath proves it. Cross-country skiing is an exciting, unique way to enjoy the canal. Although not groomed for cross-country skiing, the towpath offers a beautiful winter landscape for hikers and cross-country skiers. Snow is more likely to accumulate on the western portions of the towpath where elevations are higher, and temperatures are slightly lower.
5. Go ice-skating
Ice skating is a great winter pastime that is allowed everywhere in the Park except at Widewater, and where signs prohibit it. People sometimes play hockey games at Cushwa Basin. A word of advice: the canal gets much deeper around locks, bridges, and similar structures, so please keep away from those areas to avoid breaking through the ice.
6. Go bird watching
Believe it or not, you don't have to go south to bird-watch in the winter! There are many bird varieties to enjoy in the Park during winter. Dark-eyed Juncos, Black-capped Chickadees, and evening Grosbeaks are often spotted. The barren trees make spotting birds easier, allowing a better view of resident birds like Cardinals and Blue jays.
7. Star-gaze from a campsite
It may be cold, but the absence of leaves on the trees provides a great view of starry skies. All canal drive-in campsites are available for reservations through Recreation.gov, so reserve your camping spot ahead of time. Fires are allowed in designated fire rings year-round to help you stay warm. It's a good idea to bring snug sleeping bags and some hot cocoa too! For more information on camping (and parking permits), visit the C&O Canal's Camping page.
8. Stay in a Canal Quarters Lockhouse
You're not alone if you prefer a warm night indoors to a chilly one at a campsite! The Canal Quarters program offers seven lovingly rehabbed lockhouses you can stay in. Lockhouses 6, 10, 21, and 49 all have heat to keep you cozy all night. Each lockhouse sleeps 8, gives you excellent access to the towpath, and provides a look at what life during winter would be like for lock tenders along the canal. You can learn more and book your stay on the Canal Quarters website.
9. Hit the towpath with your camera
The C&O Canal Trust sponsors a monthly photo contest, and we always look for images captured in the Park! Winter offers unique landscape views, especially when there's snow! Review our contest rules, grab your camera, capture the beauty of winter, and enter your best shots in the contest!
10. Read a book about the C&O Canal
You can read a book about the canal when it's just too cold to be outside! Many great resources are available, which you can get from our gift shop or your local library! Curl up next to the fire with a blanket and hot cocoa, and enjoy these recommended books!
Written by Monica Larcom