McKee-Beshers Wildlife Management Area
Hikers, naturalists, bird-watchers, and hunters can all enjoy the 300 acres of preserved woods, fields, and wetlands that is the McKee-Beshers Wildlife Management Area.
McKee-Beshers is known for its deliberately flooded forests during the fall and winter. Biologists create these "greentree reservoirs" to attract colorful wood ducks and other waterfowl that migrate through or spend the winters here. Along the preserve's many miles of trails, you can also spy more than 200 species of songbirds and other wildlife such as deer, wild turkey, reptiles and amphibians.
Photo buffs have an extra reason to plan a visit to McKee Beshers. Fields of giant sunflowers planted by hunters to lure doves to the area create spectacular displays of color in early to midJune.
The hunting tradition at McKee-Beshers is a long one—started back in 1695 when a ranger named Richard Brightwell "sought to establish a settlement far from his neighbors, where he and his friend could enjoy the pleasure and excitements of fishing and hunting."
From the Capital Beltway, take Exit 39 (River Road) west toward Potomac. Proceed for approximately 11 miles to the intersection of River Road and MD 112, Seneca Road. Turn left and continue on River Road for about 2 1/2 miles. McKee-Beshers will be on your left as you head west on River Road. For additional information, contact the Gwynnbrook Work Center at (410) 356-9272.
Add to Itinerary
You can now create your own itineraries to guide your C&O Canal exploration, or you can copy one of ours! Lean more about Itineraries.
Connect: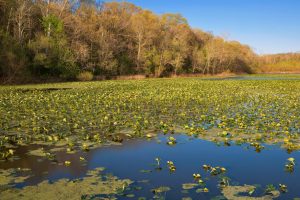 Social Media Share: