Billy Goat Trail B
Billy Goat Trail B is currently CLOSED, due to trail damage. Visit the C&O Canal National Historical Park's page of current conditions for updates.
Sections A and C are open. Learn more about them here: Section A  Section B
---
The middle section of the Billy Goat Trail is accessible from the towpath near Anglers or Carderock. This 1.4 mile trail passes through a floodplain forest and along the river like the other Billy Goat sections. It is considered to be moderately difficult, including a few rock scrambles and a quiet atmosphere. If you're a bird watcher, this is the section for you.
As with all Billy Goat Trail sections, hikers should wear sturdy hiking shoes, be prepared for weather changes, carry and drink plenty of fluids (never drink from the canal or river), never hike alone, and stay off slippery rocks and cliff faces.
See Billy Goat Trail B: West Trailhead and Billy Goat Trail B: East Trailhead for where to begin your hike.
Add to Itinerary
You can now create your own itineraries to guide your C&O Canal exploration, or you can copy one of ours! Lean more about Itineraries.
Mile Marker: 11.3-12.3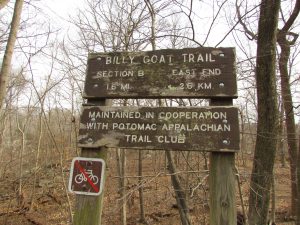 Social Media Share: