Chairman
John Guttmann
Shareholder
Beveridge & Diamond, PC
Washington, DC
Vice Chairman
Francis Grant-Suttie
Global Conservation Senior Executive
Potomac, MD
Treasurer
Bert Swain
Dembo Jones, P.C.
Rockville, MD
Secretary
Anthony Stacy
Booz Allen Hamilton
Alexandria, VA
Gay Barclay
Potomac, MD
Paul Bremer
Professional Ski Instructor
Okemo Ski Resort
Chevy Chase, MD
Stephen E. Chaudet
Consultant
Lockheed Martin Corporation
Arlington, VA
Randy Cone
Senior Vice President
UBS Institutional Consulting Group
Potomac, MD
Mary Ann Fisher
Bethesda, MD
Marc Grossman
Vice Chairman
The Cohen Group
Arlington, VA
Paul Juola
Vice President, Legislative Affairs
Lockheed Martin
Alexandria, VA
Paul B. Krogh
CEO/Principal
K2 Construction Consultants, Inc.
Bethesda, MD
Tara Sanders Lowe
Realtor
Kearneysville, WV
Robert Mertz
Bethesda, MD
William B. Newman, Jr.
HC Project Advisors, LLC
Washington, DC
Dan Spedden
Executive Director
Washington County Convention and Visitors Bureau
Hagerstown, MD
Cory Van Horn
Director of Marketing
Visit Montgomery
Rockville, MD
Jonathan Warner
Owner
Warner Commercial
Dickerson, MD
Robin Zanotti, ACFRE
President, C&O Canal Trust
Hagerstown, MD

ROBIN ZANOTTI, ACFRE
(She/Her)
President
Robin joined the C&O Canal Trust in April 2015 with thirty years of executive leadership experience. She previously ran her own business, Zanotti Nonprofit Solutions LLC, where she aided clients with strategy, fundraising, and management. She served as the president of the Rotary Club of Martinsburg and is a graduate of Leadership Berkeley and Leadership Jefferson. She lives in Martinsburg, WV, with her husband Mike and their rescued animals.

AIDAN BARNES
(They/Them)
Director of Programs and Partnerships
Aidan has been the Director of Programs and Partnerships since March 2020, overseeing the implementation and function of programs, volunteer service projects, and events in the Park. Originally from Michigan, Aidan has a background in outdoor education and facilitating programs with youth, non-profit, and corporate groups. They also spent nearly two years teaching English in Taiwan. They have a bachelor's degree from Northern Michigan University and enjoy hiking, biking, rock climbing, good books, and campfires with friends. They live in Hagerstown, Maryland.

LAUREN RIVIELLO
(She/Her)
Director of Development
Lauren joined the Trust in February 2021 from Boston, where she was the Executive Director at the Brookline Arts Center, a visual arts center committed to bringing the community meaningful experiences in the arts. Lauren earned a Bachelor of Science in Journalism from West Virginia University and a Certificate in Nonprofit Management and Leadership from The Institute for Nonprofit Practice at Tufts University. She is returning to West Virginia, where she grew up exploring the C&O Canal, with her husband and daughter.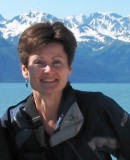 JANE NEFF
(She/Her)
Office Administrator
Jane came to the Trust with more than 25 years of experience coordinating business processes in the manufacturing industry. She earned a degree in Information Technology from Hagerstown Community College where she graduated with top honors. Her skills span a wide array of business functions that include network administration, database administration, and accounting. In her free time she enjoys biking the canal and gardening at her home in Boonsboro.

ELLEN KINZER
(She/Her)
Development Associate
Ellen joined the Trust in April 2019 from the Midwest, where she attended school at the University of Wisconsin-Madison and graduated with a degree in Wildlife Ecology. She previously served as a digital media specialist for Sauk Prairie Conservation Alliance, an archivist for U.S. Fish and Wildlife Service, and a seasonal ranger at Fort Frederick State Park.

TYMBER COMPHER
(She/Her)
Communications & Development Associate
Tymber joined the Trust in April 2020. She is a freelance writer and editor with a specialization in nonprofit communications. A graduate of Antioch College in Ohio, Tymber has a B.A. in Literature and the Human Condition. She has previously worked with Tecumseh Land Trust in Yellow Springs, Ohio, and Moonstone Arts Center in Philadelphia where she created social media content and organized community events. In her spare time, Tymber enjoys hiking, reading, and wrestling with her cat, Theo.