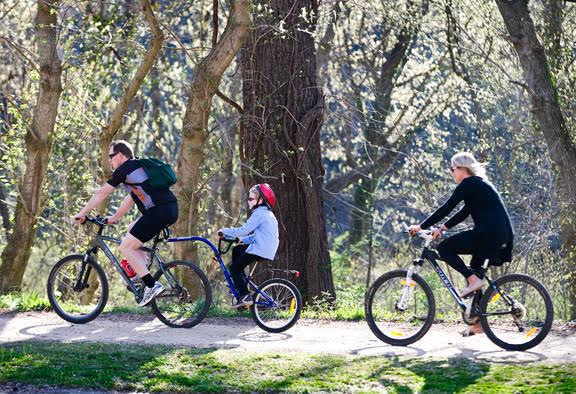 There is nothing better than an adventure in the great outdoors, and the C&O Canal National Historical Park is host to some exceptional activities to enjoy!
If you are taking a stroll through the Park, you are sure to see bikers riding along the towpath.  Cycling is a favorite activity among so many of our visitors. Have you given it a try? Traveling along the towpath on a bicycle allows you to see many more miles of our beautiful Park.
Also awaiting you are breathtaking hiking trails! A trip to the Great Falls area of the park will grant you access to some of our favorite trails including all three of the Billy Goat Trails which offer varying levels of difficulty for beginners and advanced hikers. The Western Maryland Rail Trail, stretching for 22 miles, is another favorite among Park visitors. The C&O Canal is perhaps one of the only places that you would be happy to be told to "take a hike".
Feel like experiencing the C&O Canal in a unique way? Horseback riding is permitted along a 160-mile section of the canal stretching from Swains Lock (mile 16.6) to Offutt Street (mile 181.8). The Park's website provides the latest regulations on horseback riding in the Park.
There really is no better way to experience the C&O Canal National Historical Park once the sun sets than by spending the night at one of  their many campsites. In the Park there are two camping experiences, hiker-biker and drive-in campsites.  Pitch your tent at the free hiker-biker campsites located every 6 to 8 miles along the towpath, or park your trailer at the drive-in campsites for a  nominal fee. The term "a breath of fresh air" may not have been invented because of  these  amazing campgrounds but it sure describes them well! For more information on camping please visit https://www.nps.gov/choh/planyourvisit/camping.htm.
Campsites are not the only way to enjoy spending the night at the C&O Canal National Historical Park. Our Canal Quarters Program enables you to stay in a  rehabilitated historic lockhouse. Learn more about how you can book your stay with us here https://www.canaltrust.org/programs/canal-quarters/.
Another favorite activity, especially among those coming to the Park from Washington D.C., is rock climbing.  At Carderock, near mile marker 10 on the towpath, people from all over converge to go rock climbing. Adding rock climbing to your list of activities is sure to take your C&O adventure to new heights!
Cast off! The C&O Canal National Historic Park also offers the chance to ride a canal boat, the Charles F. Mercer, located  at the Great Falls Tavern. Along with park rangers dressed in period clothing, you can truly immerse yourself in this boat ride, pulled by one of the park's mules, straight out of the 1870's. See how your spirits rise along with the water level as the boat elevates 8 feet within one of the locks on the canal.  Williamsport also offers guest the opportunity to ride in a launch boat all the way down to Lock 44 before heading back to Cushwa Basin.
We all share a sense of ownership in   our very own beautiful backyard national park.  Why not show your pride by volunteering? Volunteering is a great way to get involved with the  preservation of the canal and help our wonderful park continue to be something we are proud of for many generations to come! To learn more about all the way you can get involved with the Park check out our volunteer page.