Park: You can get to the towpath from the town by bike or car when you head west on W. Potomac Street until you reach the Cushwa Basin parking lot. The towpath is located approximately 300 ft north west through the RailRoad Lift Bridge.    
River access: There are two entry points for boats along the Potomac River at River Bottom Park. The park can be accessed by bike or on foot from the towpath 0.9-miles. west of Lockhouse 44. For car access to the boat ramp, make a right onto N. Commerce St from W. Potomac St heading east out of the Cushwa Basin parking lot. Then make a right onto W. Salisbury Street to cross the Bollman Bridge. Follow this path down 0.1-miles to reach the boat access point. The second access point is located 600 ft to the right of the bridge overpass.
Stay: Depending on your preference, Williamsport offers a variety of lodging options. If you are interested in staying close to the towpath Bay farms, Bed and Breakfast is two blocks down W. Salisbury Street, totaling 0.5- mi. It offers an ideal stop for overnight travelers, hikers, or cyclists. Red Roof Inn is located a short distance, 1.1-mi from the towpath on E. Potomac Street, and provides affordable economy lodging choices. Another overnight stay option is Elmwood Farm Bed and Breakfast, which showcases cozy rooms and historic barn settings. Two miles up the towpath heading north is Jordan Junction Campground. An excellent place for hikers and bikers on the move; portable water, toilets, picnic tables, and grills are available for use. For extensive overnight camping Safari Campground and Yogi Bears, Jellystone Park Resort reside at the cross-section of Kendle and Lappans Rd. Cabin rentals, tent sites, and water amenities are available at the camp resort.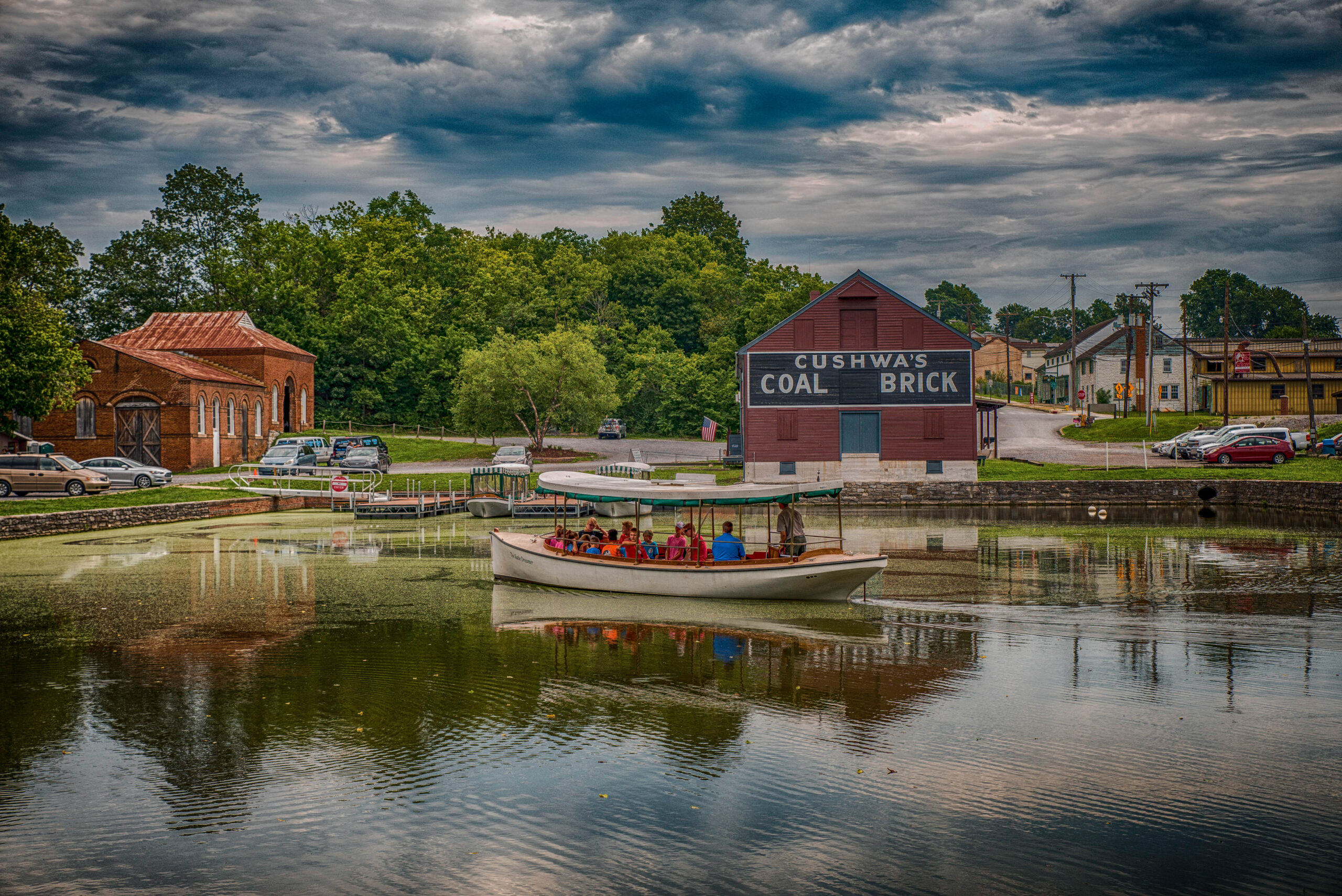 Cushwa Basin by Mark Crilley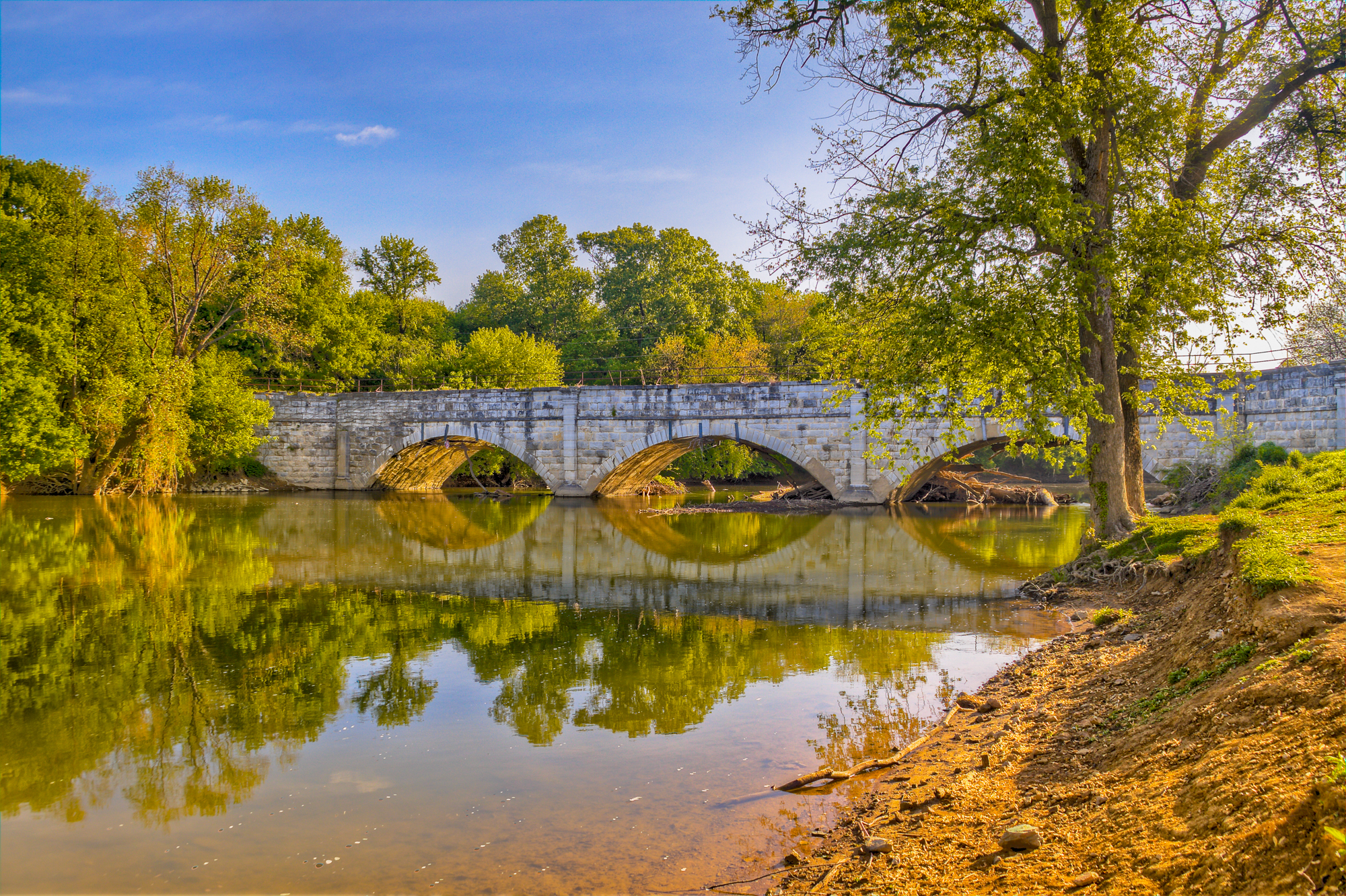 Williamsport Aqueduct by John Gensor
Don't Miss: The RailRoad Lift Bridge & Conococheague Aqueduct.
The Conococheague Aqueduct is an exciting access point for canal boat riders interested in the full canal experience. Since the permanent lifting of the RailRoad Lift Bridge in 2016, pedestrians have been given access to cross the canal through the bridge. The restoration allowed for the expansion of the canal boat tour. The launch boat ride now explores the full length, from the Cushwa Basin to Lockhouse 44, with an informative historical tour of the canal. The tour also includes the newly restored Conococheague Aqueduct, which allows for boat operations to continue. This area is the, "Only place in North America where visitors can view, an operational lift lock, railroad lift bridge, lockhouse, turning basin and warehouse. (NPS, Conococheague Aqueduct 2020)"  
Eat: Dessert Rose Cafe 
Desert Rose Cafe is located a convenient two blocks from the towpath, heading east on W. Potomac for 0.3 miles. The restaurant provides a relaxed space for those eating in and hikers, bikers, and pedestrians on the go. Bike racks, outdoor seating, and amenities for trail users are available, such as bike pumps, inner tubes, first aid, and more. 
Chill: Byron Memorial Park
Byron Memorial Park is a brisk 0.8 miles from the towpath and leads into the center of town. This is a multiuse park that is located at the interaction of E Potomac St and Park Rd. Byron Memorial Park is known for its eventful celebrations encompassing car shows, concerts, and elaborate holiday celebrations such as Christmas lights and Fourth of July displays. Besides festivals, the park offers different facility rentals for those interested in using the Williamsport Community Building, pavilions, bandstand, gazebo rentals, and other rentals advertised on the Williamsport Town website.   
If you have time: Visit Lockhouse 44 
Located at mile marker 99.1 on the towpath, Lockhouse 44 stands along the canal. It was built in 1834 out of white and gray limestone; it now serves as a historical exhibit for requested tours. It is one of few surviving Lockhouse's that initially maintained and operated the boat-locking system along the canal. 
Come back for: Springfield Farm. 
Springfield Farm is perfect for history fanatics interested in following the rich history of Williamsport. The Springfield farm is one of the largest barns in Maryland built by Otho Holland Williamsport himself in 1755. The estate contains a museum, two four bays, and a participant of the Living Legacy Project, an initiative dedicated to the 150th Anniversary of the Civil War and the fallen soldiers. Although the property is commemorated for its historical contributions, it is also available for reception, community events, fundraisers, banquets, and more. Questions can be directed to their email [email protected] or phone number listed on the website.  
Events: Fourth of July Fireworks Display 
If fun and exciting celebrations are what you are looking for, join Williamsport in celebrating Independence day at Byron Memorial Park. It is a free venue that provides live local music performances, vendors, and a grand firework display.  
Along the Towpath in Williamsport by Ed Crawford