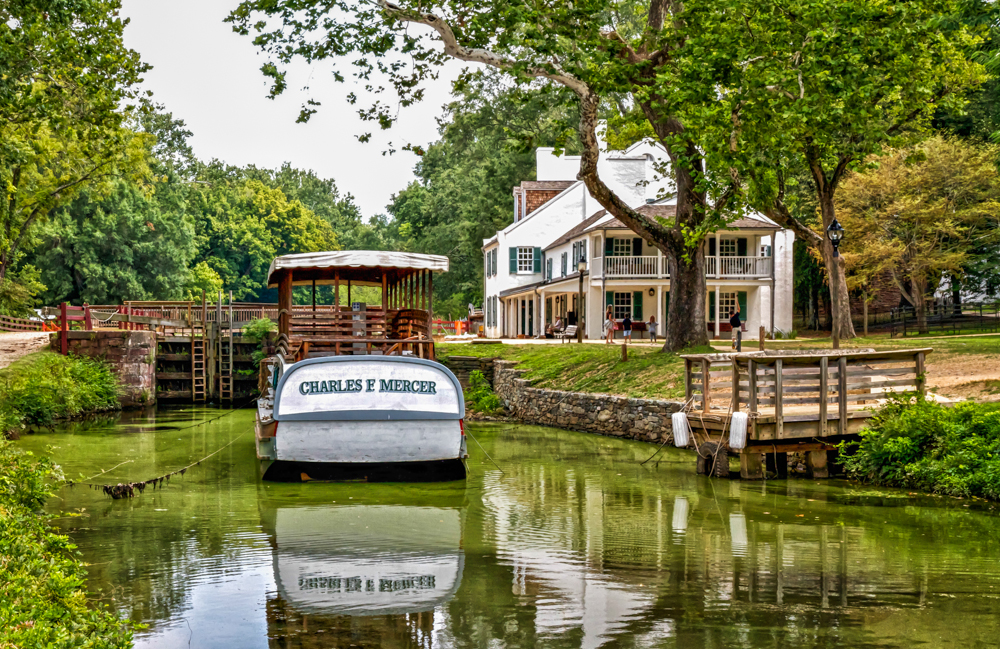 The 1870s are alive and well in the C&O Canal National Historical Park. Experience a history lesson, a unique boat ride, and the famous C&O Canal mules when you take a trip on the Charles F. Mercer canal boat at the historic Great Falls Tavern.  It's a great way to see how folks lived and worked along the canal during its heyday. 
The Charles F. Mercer is a replica packet Canal boat, named after Charles Fenton Mercer who was the first president of the C&O Canal Company from 1828-1833. Packet boats like the Mercer operated regularly and carried visitors back and forth between Georgetown and the Great Falls area. Your ride on the Mercer will begin at the Tavern and take you upstream through an historic operating lock as your boat is raised 8 feet to meet the height of the Canal waters. The boat, fully loaded with passengers, will then be pulled upstream by the famous C&O Canal mules while park rangers in period clothing describe what life was like for people who lived and worked on the canal during the 1800s. 
Take a look at Visit Montgomery's video to see what it's like to experience a ride on the Mercer : https://www.youtube.com/watch?v=QDG_7nsUpnE. 
Groups of ten or more are required to make reservations for the ride. Otherwise, seats are available on a first-come, first serve basis. Tickets are $8.00 for adults (ages 16-61), $6.00 for Seniors (ages 62+), and $5.00 for children (ages 4-15). Children aged three and under are free.  Tickets can be purchased at the Great Falls Tavern Visitor Center in the park at 11710 MacArthur Blvd., Potomac, MD.  The Charles F. Mercer boat capacity is 65 people and boat programs last approximately one hour. Rides are offered weekends, including some Fridays, during the spring and summer. Learn more at https://www.nps.gov/choh/planyourvisit/great-falls-canal-boat-rides.htm.