August 8 will be a big day for the Park with the ribbon-cutting for the newly-restored Conococheague Aqueduct and the ground-breaking for the new Park headquarters in Williamsport, Maryland. Please join us to celebrate these two landmark occasions!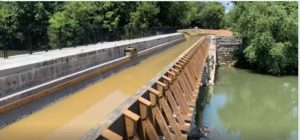 Now complete after a two-and-a-half-year restoration, the Conococheague Aqueduct is not just the only aqueduct along the C&O Canal to carry water, but also the only place anywhere in North America where visitors can ride a boat across an historic aqueduct and through a working lock. The new Park headquarters, a combination of the historic rehabilitation of the Miller Lumber Company premises and new construction, is scheduled to be open in late 2020.
Here are the details:
Location: C&O Canal National Historical Park, 205 W Potomac St, Williamsport, Maryland.
Date: Thursday, August 8, 2019
Time: 10 a.m.
Please park at River Bottom Park, accessed via W. Salisbury Street, Williamsport, Maryland.
Those with handicap plates or sign will be permitted to park at Cushwa Basin (205 W. Potomac St, Williamsport, Maryland)
 For more information of the history of the aqueduct and how its repair might affect you, click here.