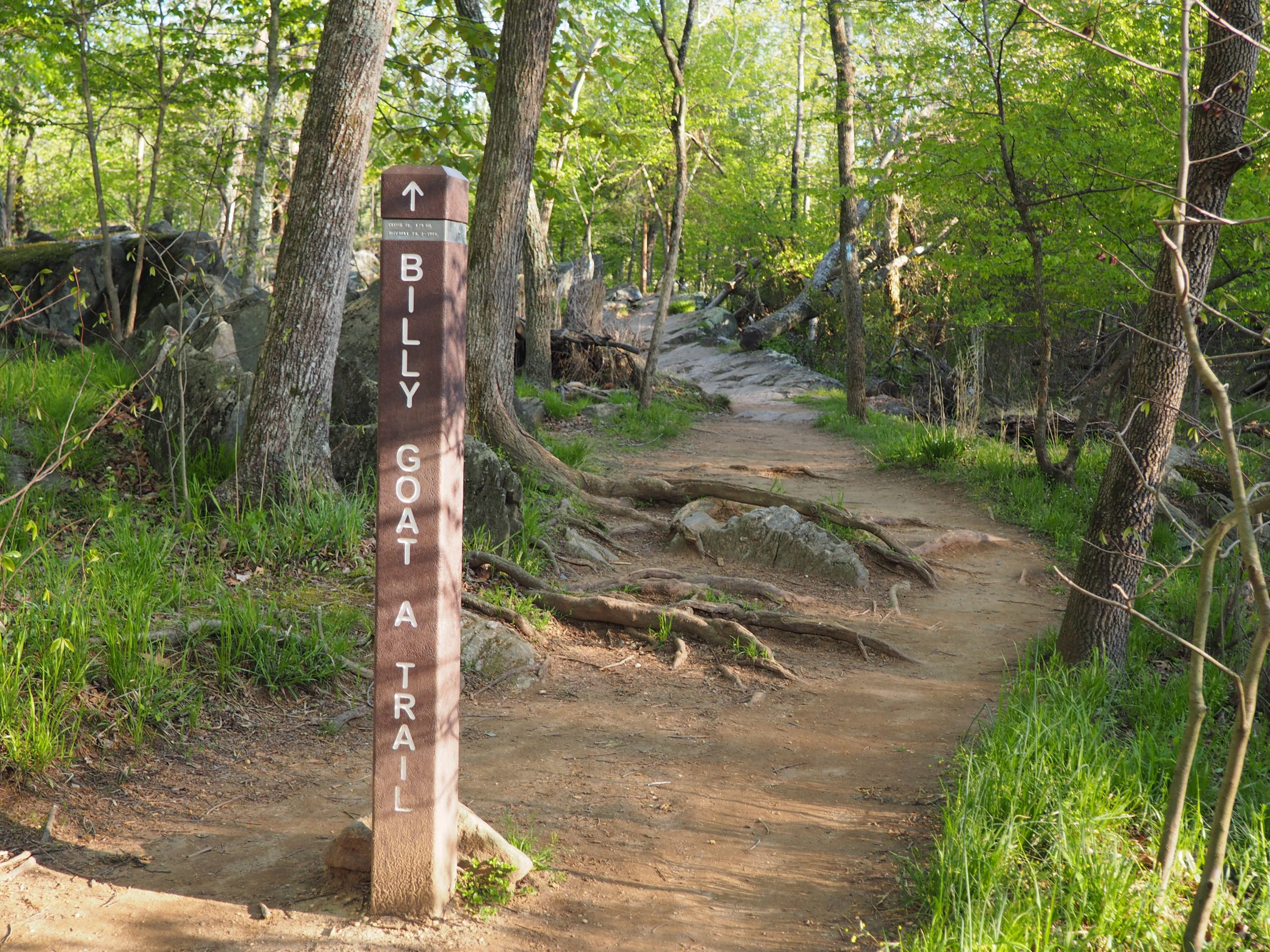 The Billy Goat Trail is one of the most popular hiking spots in the D.C.-Maryland area. It has three sub-sections, but this week's entry is focused around the most difficult and most popular section of all three: Trail A.
Trail A has been a beloved spot of hikers for years, and for good reason. In addition to the challenging nature of the trail, it offers gorgeous views of the roaring Potomac below. Mather Gorge is stunning, and many people take pictures at this part of the hike. The trail consistently keeps hikers on their toes with scrambling, a cliff face to scale, and rapidly changing inclines.
There are several picturesque outcroppings where people can stop to enjoy a packed lunch while practicing LNT (Leave No Trace) out of the way of other hikers.
Trail A may prove too difficult for those who have little hiking experience. At points, the Potomac River is 50 feet below the trail, and hikers must be extremely careful when navigating through these areas. Several parts of the trail are closed for wilderness restoration, and it can be easy to lose track of the blue trail blazes.
The trail should be treated with respect. Each year, there are 400+ emergency calls from hikers, some of these resulting in rescues.
Because of the dangerous nature of this trail, there are several Trail Stewards who ensure the safety of hikers while also maintaining the integrity of the trail itself. Kevin Murphy and Bob King, the Potomac Appalachian Trail Club (PATC) Overseer and Billy Goat Trail Steward Coordinator, were kind enough to answer some questions about their experiences on the trail.
How long have you been a Trail Steward? What's it like to be the Steward Coordinator/PATC overseer?
Kevin: I've been a Billy Goat Trail Steward since 2014.  I became the PATC Trail Overseer in late 2015.  As Trail Overseer I am responsible for doing the blazing- important since we are trying to keep visitors on the trail- and performing routine maintenance including trash pickup.
Bob: I've been a Steward since the fall of 2011. In mid-2012 I became co-team leader with Mark Hingston, and in 2014 I started as team leader on my own. It's very rewarding being the team leader. I enjoy training new Stewards and building camaraderie among them.
What are a few common mistakes you've seen from hikers that you'd like to warn new hikers about?
Kevin: There are a lot of well-written trail reviews, not just on trail sites, but also on TripAdvisor, yet most people don't read them before showing up at the trail. We have large numbers of people who want to hike the trail because they have heard from others that it is the "best" trail in the park despite the fact that they have little-to-no hiking experience, people who underestimate the length of the trail including the towpath (4.5 miles), school groups that show up on Mondays when the Visitor's center is closed and aren't able to learn anything about the trail, large groups that don't know how to hike in a group setting and don't realize that the trail is not designed for large groups, people who throw rocks at the snakes, and individuals that refuse to follow the rules of this trail by deliberately bringing their dog or by hiking or jogging off trail.
Bob: Aside from shoes and nourishment, the other issues we deal with (and I wish people would understand) are the dangers of the river, leaving wildlife alone, and being careful and deliberate on the rocks rather than running wild. Also, making sure they practice LNT and the damage they do to Bear Island by wandering all over the place and by bringing their dogs.
What's your favorite thing about Billy Goat Trail A in particular?
Kevin: I find the BG-A trail unique because it can be such a different trail based on the season or weather.
Bob: There's no particular spot that I like any more than others, but I always enjoy the views of Mather Gorge. I particularly like hiking in the winter when the views are better (no leaves on the trees). High water, low water, and river ice also make for interesting experiences.
Do you have any stories from your experiences on the Trail that you'd like to share?
Kevin: I've assisted many people who have gotten injured while on the trail and, universally, no matter how much pain they're in, they will thank us for helping them out, treating their injuries, or for guiding the rescue boats/helicopter to them. I enjoy standing at the top of the traverse and watching someone climb it for the first time – seeing the look of happiness & accomplishment in their eyes is priceless. I've seen all sorts of things on the trail including engagements, groups of nuns in their habits, and blind hikers, as well as broken ankles and flowering cacti.
Bob: I'm just glad that I can be out there helping people when they're hurt. People are so grateful that there is someone around who can help until EMS arrives. I also enjoy seeing the excitement when someone manages the Traverse for the first time. I've been privy to several proposals, which is also great. And I've seen all sorts of animals considered to be "pets" by their owners. My favorite comment by a visitor last year when informed by a Steward that their dog was not allowed on the trail: "Even on weekends?"
The National Park Service has issued several recommendations for hiking Trail A because of past calls and rescues:
Always bring extra water and trail snacks, because you can get dangerously dehydrated on hot days. The NPS recommends each person bring at least twice as much water as they usually drink, which tends to be about two liters. The snacks help to restore calories and electrolytes that are lost as you sweat.

Make sure you consistently drink your water every few minutes. If you begin to run low (less than half of your water is remaining), head back to your car.

If your heart feels like it's fluttering, you feel dizzy or lethargic, or you begin to have muscle cramps,

stop hiking immediately.

These are symptoms of heat exhaustion, which can rapidly turn into heat stroke. People attempting to push through these symptoms result in many of the emergency calls per year. In this case, the hiker must find a shady area, rest, and slowly drink water.

Don't bring dogs or small children onto this trail. It's far too difficult for them to hike.

DO NOT SWIM IN THE RIVER.

While it might look calm on the surface, there are many dangerous undercurrents that can pull people down without letting them back up.

Be

extremely

careful when navigating the rocks. Many emergency calls/rescues are the result of sprained or twisted ankles.

Don't hike alone. If a hiker is alone and gets injured or loses consciousness, it could be fatal.

Finally, WEAR PROPER HIKING SHOES.

This means closed-toe, thick treads, with laces. Especially when hiking Trail A, the best shoes to wear are hiking boots, preferably ones that are water-resistant and that have ankle support. Trail A occasionally has some downhill parts that are partially flooded. If you are wearing sneakers, your feet will get wet, resulting in a very uncomfortable remainder of your hike. There will also probably be blisters involved.
While this all may sound intimidating, the views from the rocks are compelling enough to bring hundreds of visitors to the trail each day. If you practice these safety measures and respect the trail, the trail will likely respect you.