Turtle Run Campsite
One of the regularly spaced hiker/biker campsites along the towpath, Turtle Run provides a front row seat to Civil War history—in the middle of the Potomac. Turtle Run offers views of Harrison Island from your tent flaps. Here in 1861, the Union's attempt to cross into Virginia at Ball's Bluff was repelled. In the ensuing chaos caused by an insufficient number of boats for retreat, the Massachusetts infantry resorted to swimming the river and dodging bullets at the same time. Wounded soldiers were treated at area homes and farm buildings. One of the wounded, Oliver Wendell Holmes, went on to be a prominent U.S. Supreme Court justice for 30 years.
All camping sites have a portable toilet, water source, picnic table and a grill.
Please Note: Potable water may not be available at each campsite. Water is treated with iodine. Please plan to have water purification tablets with you. Water is turned off from November 15 to April 15 each year.
Please visit the C&O Canal National Historical Park's website for detailed camping information, or you can call 301-739-4200 with any questions. Site reservations can be made via the Recreation.gov website.
Add to Itinerary
You can now create your own itineraries to guide your C&O Canal exploration, or you can copy one of ours! Lean more about Itineraries.
Mile Marker: 34.4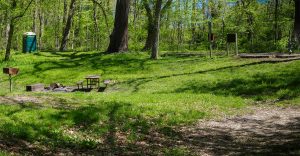 Social Media Share: