Bollman Bridge
Patapsco Bridge and Iron Works built the present road bridge crossing, Bollman Bridge, with Wendall Bollman as their chief, in 1879. Bollman was a self-taught engineer who started at the early age of 15. He pioneered the "Bollman truss" design, which was used for as many as 100 bridges, including the Civil War bridge at Harper's Ferry.
One of the oldest standing iron railroad bridges in the United States, the Bollman bridge is a testament to the engineer's skill. The bridge is one of the few surviving by Bollman, and though it sat neglected from 1915 until the 1960s, it has been now been updated and spruced up in a historically-accurate manner. It was painted red and white, and a wooden walkway was added to the span. The bridge is in the C&O Canal National Historical Park and is maintained by the town of Williamsport.
Add to Itinerary
You can now create your own itineraries to guide your C&O Canal exploration, or you can copy one of ours! Lean more about Itineraries.
Mile Marker: 99.5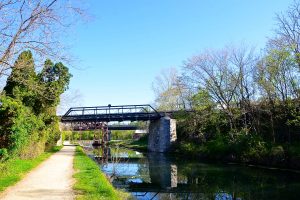 Photo by: Nancy S. Mitchell
Social Media Share: