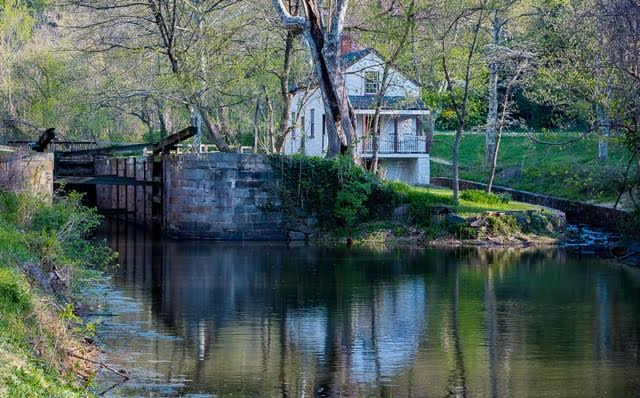 The C&O Canal National Historical Park holds hundreds of secrets along its 184.5-mile length and is a wonderful place to explore both the natural and man-made worlds. In the Canal Discoveries section of the C&O Canal Trust's website, Park Rangers describe 48 of these gems.
To celebrate our 10th anniversary, we've picked out 10 gems that you might not know about. The next time you are out in the Park, be sure to visit these sites!
Tide Lock and Mile Post 0: The canal begins at the Tide Lock, at the mouth of Rock Creek, and heads west for 184.5 miles.
Lockhouse 6 and the Canal Quarters program: Did you know you can spend the night in six of the lockhouses along the canal? Each lockhouse sleeps up to 8 people and is furnished to depict a time period from the canal's history. Learn more and book your stay here.
Mather Gorge: Many National Parks have a feature named after Stephen T. Mather, the first National Park Service director, and Mather Gorge is ours. Just downstream from Great Falls, its sheer cliffs provide a mini-canyon for the wild Potomac River.
Rileys Lock and Seneca Aqueduct: The C&O Canal has 11 aqueducts and 74 lift locks…but one is both a lift lock and an aqueduct! This engineering marvel is located at mile 22.7, at the mouth of Seneca Creek.
Appalachian Trail: The Appalachian Trail, which runs from Maine to Georgia, meets up with the C&O Canal towpath for about 3 miles from Weverton, MD to Harpers Ferry, WV.
Ferry Hill: This beautiful home overlooking the Potomac River, became a successful farm due to its fertile land and proximity to the ferry. The home now serves as a Visitor Center (https://www.nps.gov/choh/planyourvisit/ferry-hill-place.htm) for the C&O Canal.
Dam 4: Originally built to divert water into the canal, Dam 4 now supplies water power to the residents of Washington County, as well as gorgeous views of the mighty Potomac.
Four Locks: Named for the four locks that traverse a quarter mile, the town of Four Locks sprung up after the canal came through and once hosted over 30 buildings.
Lock 65: The Missing Lock: The lock isn't really missing; instead, it fell victim to construction plans! Learn the story here.
Cumberland Terminus: The 184.5 miles of the C&O Canal come to an end in the town of Cumberland, once known as the "Gateway to the West". Here the Great Allegheny Passage begins, allowing travelers to bike all the way to Pittsburgh.
After you have explored these ten discoveries, be sure to check out the others on the Canal Discoveries section of our website!