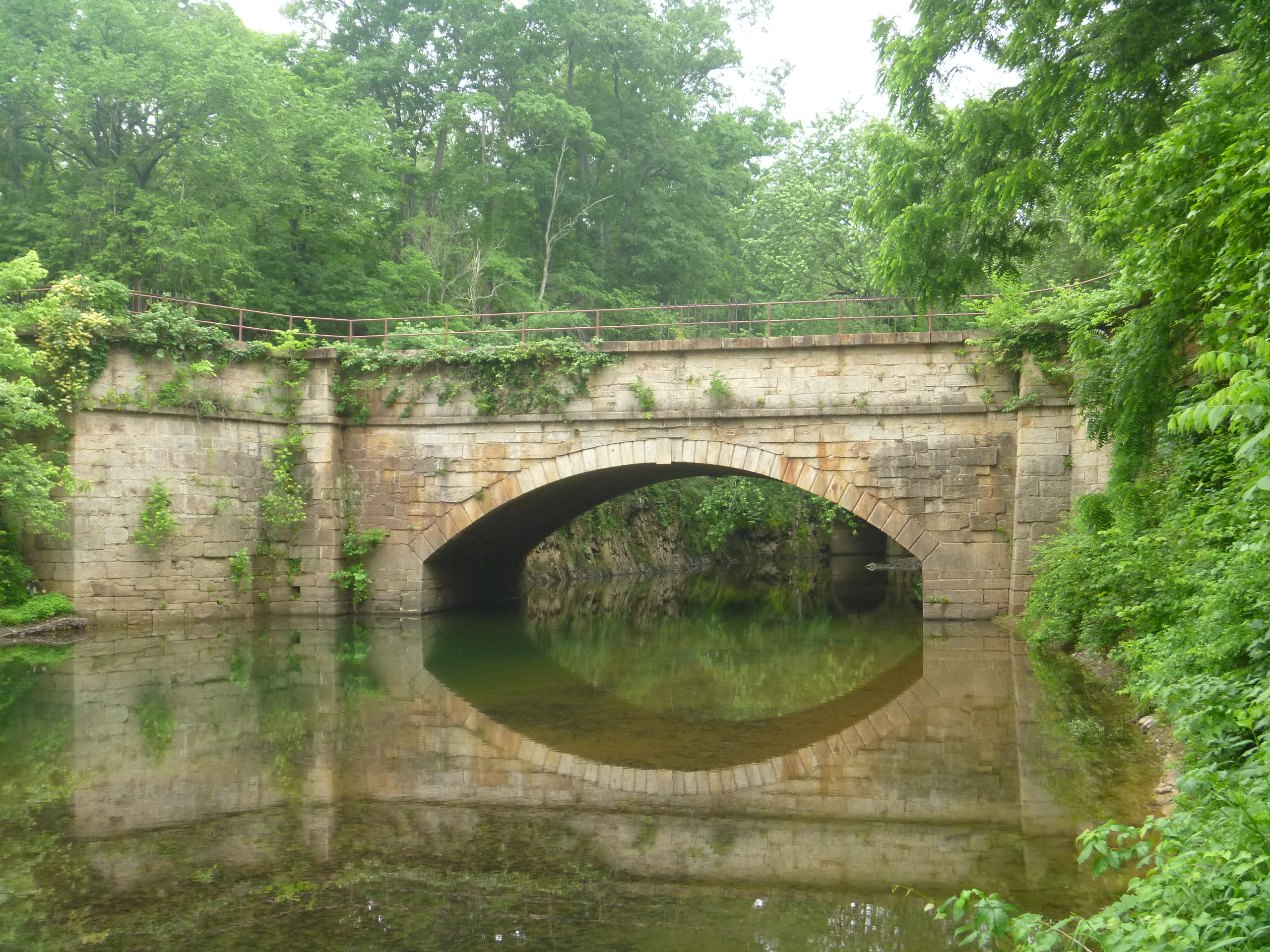 During this stressful time of social distancing and isolation, it is critically important you take care of your physical and mental health. Fortunately, the C&O Canal National Historical Park can offer you fresh air, relaxation, and a break from the news coverage. The western section of the C&O Canal offers many remote points of interest that are less frequently visited than popular eastern hubs such as Great Falls. Consider visiting some of these western gems along the canal for a stroll or a bike ride along the towpath — but make sure you are following all social distancing guidelines. If you have kids, take our C&O Canal Scavenger Hunt with you!
Click on the links below or download our mobile app for driving directions to these locations.
Point of Rocks Tunnels (MM 50) and Train Station (MM 48.4), Point of Rocks, MD
Point of Rock was the terminus of the C&O Canal from 1828 to 1832, while the B&O Railroad and the C&O Canal companies awaited a court decision on how both the railroad and canal would pass by the "point" just west of town. In 1832, the court ruled in favor of the canal, but both modes of transportation passed next to each other, and the B&O ultimately reached Cumberland first.
The Point of Rocks tunnel, was created in 1868. Before the tunnel was built, the railroad tracks and canal shared the narrow passage between rock and river from here to Harpers Ferry, WV. In 1902 the tunnel was enlarged, and brick facing on both entrances added an artistic touch.
Additional Point of Interest: Half a mile off the towpath on Clay Street is the Point of Rocks Train Station. Built in 1875 by the Baltimore & Ohio Railroad, this charming Victorian station is on the National Register of Historic Places and is one of the most photographed train stations in the world.
Shop Local: Consider supporting a local business by getting takeout from a local merchant in nearby Brunswick, MD. The following restaurants have takeout options: Towpath Creamery, Boxcar Burger, Beans in the Belfry, Smoketown Brewing Station, and Potomac Street Grill.
Ferry Hill, Mile Marker 72.8, Shepherdstown, WV
As a former plantation during the mid-nineteenth century, Ferry Hill witnessed significant moments in history including the construction and operation of the C&O Canal and the Battle of Antietam. Although the building is currently closed to the public, visitors can walk the grounds, admire this historic and stately plantation house, and learn more about its history at the various wayside signs. Visitors can also access a forest trail that begins behind the house and winds its way down the hill to the towpath. The forest trail is a favorite place to view spring flowers. Read more about Ferry Hill here.
Additional Point of Interest: While you're in the area, visit Antietam National Battlefield to learn more about the Civil War history of Maryland. The visitor center is temporarily closed but the trails and roads remain open to the public. For the most up-to-date information, visit the park's website here.
Shop Local: Consider supporting a local business by getting takeout from a local merchant in Shepherdstown or Sharpsburg. Captain Bender's in Sharpsburg and Bluemoon Café, Green Pineapple, Hecho En Mexico, Kome Thai & Sushi Bistro, Sweet Shop and Bakery and more in Shepherdstown have takeout options. Also in Shepherdstown is Rumsey Memorial Park, which has picnic tables and a great view of the Potomac River for you to enjoy your takeout. Remember to carry out your trash.
Four Locks (MM 108.8) and McCoys Ferry (MM 110.2), near Clear Spring, MD
Directions to Four Locks | Directions to McCoys Ferry
 Both of these locations have parking with access to the towpath and the river and a picnic area for day use. McCoys Ferry also has a drive-in campground with sites that can be reserved for a fee through recreation.gov. Read about the Civil War history of McCoy's Ferry here and the history of the Four Locks community here.
Additional Point of Interest: Drive a few miles west to get to Fort Frederick State Park which adjoins the towpath. In use during three wars, the French and Indian War, the American Revolution, and the Civil War, Fort Frederick is steeped in history and just waiting to be explored. Check the Fort Frederick State Park website for the most up-to-date information about accessibility and closures.
Shop Local: Consider supporting a local business by getting takeout from a merchant in Williamsport, MD. Tony's Pizza, Smokin' Toad BBQ, and Cushwa Brewing Company all have takeout options. Byron Memorial Park has pavilions and a lot of open space for a picnic. There are also picnic tables in the park near W. Salisbury St. Make sure to carry out all of your trash. Download the C&O Canal Explore App to find all of the picnic tables in the Park.
Fifteen Mile Creek, Mile Marker 141, Near Little Orleans
Offering a boat ramp and drive-in campground, Fifteen Mile Creek is a great place to kayak or canoe along a placid section of the Potomac River. Boaters can also view the historic Fifteen Mile Creek Aqueduct which was built between 1838 and 1850.
Additional Point of Interest: While you're in the area, visit Green Ridge State Forest. At over 47,000 acres, Green Ridge State Forest offers fishing, hunting, primitive campsites, and over 50 miles of hiking trails. Visit the Green Ridge State Forest website for more information.
Oldtown/Lock 70, Mile Marker 166.7, Near Cumberland
Another hidden gem along the canal, Oldtown is rich with Native American and C&O Canal history. Little has changed at the site since the canal closed to boat traffic nearly 100 years ago, where Lockhouse 70 still stands, overlooking a watered portion of the canal. Oldtown also offers a fishing pier, picnic area, and handicap parking. Read more about Oldtown here.
Spring Gap, Mile Marker 173.3, Near Cumberland
 This location is another great place for boating and camping on the Potomac River and viewing picturesque seasonal foliage. This location is also notable for being the place where Supreme Court Justice William O. Douglas began his now-famous 1954 hike to preserve the canal. Read the Spring Gap Canal Discovery here.
Consider supporting a local business by getting takeout from one of these merchants. Amanda's Place in Paw Paw, WV has takeout options. Use the Paw Paw picnic tables near mile marker 156. Baltimore Street Grill, Ristorante Ottaviani, Allegania Restaurant, Seoul House Korean restaurant and more have takeout options in Cumberland, MD. Picnic at Riverside Park and explore George Washington's Headquarters and a canal boat replica.
As you are out and about enjoying the Park, please remember to be safe and follow CDC guidelines for protecting yourself and others from COVID-19.
Maintain a distance of at least six feet between yourself and others
Wash your hands frequently for at least 20 seconds
Avoid touching your face with unwashed hands
Stay home if you are sick!