A big thank you to all of our Canal Towns partners who stepped up to fund a daily shuttle around the towpath breach at Culvert 82 (Mile 52.5). Following the flash flood in May 2018 took out that section of the towpath there was no safe way for hikers and bikers to go around the breach.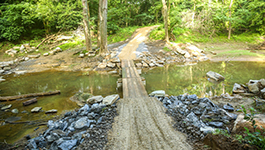 With a new season underway and continued high water foiling the Park's attempts to install a low level crossing, our Canal Towns came to the rescue, raising $6,100 to fund a free shuttle between Brunswick and Point of Rocks. The shuttle was discontinued in June when the high waters receded and the Park put in a temporary crossing. The Park anticipates installing a bridge over the towpath breach by the fall.
Thank you to the following donors:
Hagerstown-Washington County Convention and Visitors Center, Tourism Council of Frederick County, Brunswick Main Street, City of Brunswick, Greater Brunswick Area Chamber of Commerce, Association of Recreation Councils – Southwest County, C&O Canal Association, Corporation of Harpers Ferry, Harpers Ferry Merchants.