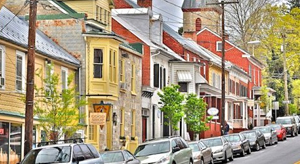 Many Park visitors know that there are towns all along the towpath. Through-hikers and -bikers are especially fond of the local businesses that offer food, respite, bike repair, and a host of other items and services trail-weary travelers can appreciate. To celebrate these C&O Canal towns, we give you our picks for the top attractions in several of the canal towns along the towpath – many are members of the Canal Towns Partnership, which assists its communities with trail-based tourism and recreation.
Georgetown – This historic area of Washington, DC has it all: food, shopping, entertainment – you name it and it's probably here. The towpath begins here at Mile Marker 0. After a multi-year restoration project (estimated completion date is 2018), visitors will be able to board a new canal boat and ride through a lift lock that operates exactly as it did 200 years ago.
Poolesville – White's Ferry, the last working ferry on the Potomac, is located about six miles west of Poolesville, MD. It has been in operation since 1782 and offers transportation between Maryland and Leesburg, VA.
Point of Rocks – Be sure to bring your camera to Point of Rocks, the home of one of the most photographed train stations in the nation.  While you're there, visit the Catoctin Aqueduct, recently restored to its 1834 glory.
Brunswick – This is also a scenic railroad locale, home to the Brunswick Railroad Museum and a revitalized historic downtown area. Brunswick is also just a few miles from an access point of the Appalachian Trail.
Harpers Ferry-Bolivar – Although these two towns share a post office, they are distinct locales rich with history. Visit Harpers Ferry National Historical Park, which surrounds the town of Bolivar. Both towns are located near the confluence of the Potomac and Shenandoah Rivers. Harpers Ferry is also where the Appalachian Trail meets the C&O Canal towpath.
Shepherdstown – Home to Shepherd University, Shepherdstown is a delightful small town that offers many unique shopping and dining options. Great annual events held here include the Contemporary American Theater Festival, the American Conservation Film Festival, and Freedoms Run–a unique event that takes runners through three national parks and is West Virginia's largest marathon.
Sharpsburg – This is the oldest town in Washington County, located about 1 ½ miles from Antietam National Battlefield. Sharpsburg looks very much today as it did in the time of the Civil War when it was devastated during the Battle of Antietam. Over 23,000 Union and Confederate troops were reported killed, missing, or wounded during the battle.
Williamsport – A half-mile stretch along the towpath showcases major canal structures all in one place. Lockhouse 44 is located here along with the Bollman Iron Truss Bridge, Railroad Lift Bridge, Cushwa Turning Basin, and Conococheague Aqueduct. It's a great place to spend a few hours exploring the historic canal structures and the town itself. The Williamsport Visitor Center is also located here.
Hancock – This quintessential piece of small town America is located minutes from Pennsylvania and West Virginia. It is home of the Western Maryland Rail Trail – 21 miles of paved trail for relaxing hiking or bike rides. Don't' miss the visitor center downtown, which features exhibits and wildlife from the state's Sideling Hill exhibit,
Cumberland – Hosting the terminus of the C&O Canal, Cumberland is home to a booming restaurant and entertainment district. It is where the C&O Canal links to the Great Allegheny Passage which continues on to Pittsburgh, PA. This creates an uninterrupted 335-mile trail from Georgetown to Pittsburgh.
Written by Melanie Draper