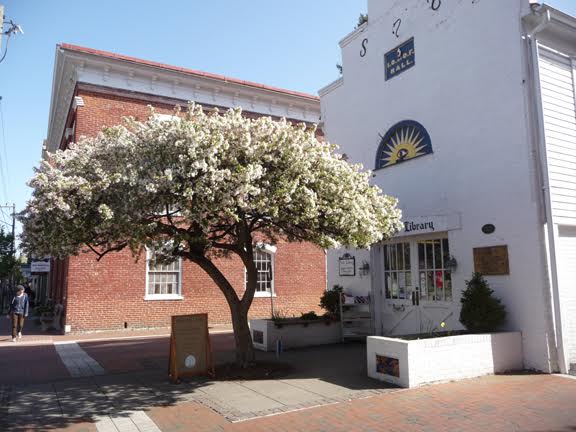 Shepherdstown
This is our first installment of Canal Towns Spotlight which aims to show what makes the Canal Towns located along the C&O Canal National Historical Park so great. We'll get started with the artistic enclave of Shepherdstown, West Virginia.

Events – Shepherdstown is a lively town and offers a variety of events throughout the year.
What better way to spend a weekend than with man's best friend? On April 29 & 30, this town will be overrun with our furry friends! DogFest is a town-wide festival that features a dog show, flyball competition, and the Parade of Rescues. Also, on any given day, Shepherdstown is a dog-friendly place to kick back and enjoy dog- and people-watching.
Although dogs are a great reason alone to come to Shepherdstown, they are not the only one! Maybe you have a green thumb or you just have a love for the outdoors and gardening. If so, stop by GardenFest on May 20 & 21. This event has garden tours, garden-themed shopping, and many other activities for gardening enthusiasts.
To check out some more of the upcoming events taking place in our Canal Towns, take a look at our blog post "C&O Canal Town Events in 2017".
Outdoor Activities – Shepherdstown is an outdoorsman's paradise! There is a great diversity of outdoor activities to help you explore the area.
Being located adjacent to the C&O Canal certainly has its benefits, as it is home to some fantastic hiking and biking trails. Riding down the towpath is a freeing experience giving you access to the endless beauty of the C&O Canal National Historical Park. This trail also connects you to our other unique Canal Towns.
There is also the opportunity to get out on the water. At the boat launch, you can push out straight into the Potomac River to enjoy a fun day on the water. Whether you love kayaking, canoeing, or fishing, this town provides the opportunity to enjoy all of these favorite past times.
Even the birds are flocking to Shepherdstown! Birding is another popular outdoor activity, and the Potomac Valley Audubon Society based here offers workshops on birding, special events, and even birding trips led by experts taking you to various local bird hotspots.
History – Shepherdstown is the oldest town in West Virginia and, because of this, it has been home to a lot of history.
James Rumsey, who was the inventor of the steamboat, first demonstrated the boat here is Shepherdstown. This made him the first man ever to pilot a steam-powered vessel and cemented him in the history of this great town!
The entire nation felt the effects of the Civil War and, because of its location along the Potomac River, Shepherdstown was a hotspot of activity. The aftermath of the Battle of Antietam led Shepherdstown to become a Confederate medical site with many of the buildings in the town being used to house and treat soldiers.
Shopping – The historic streets of Shepherdstown are home to shops that are unlike any others you will find.
Shepherdstown Pedal & Paddle is a unique store that in many ways is a gateway to this town and the variety of outdoor adventures to be had. This shop sells, services, and rents bikes, kayaks, and canoes, allowing locals and visitors alike to get out and experience a relaxing trip down the Potomac or a biking journey along the C&O Canal towpath.
Hidden treasures are what you are sure to find when visiting the store Look in Pop's Attic, a local antique store. Shepherdstown is a historic town and the perfect location to purchase pieces of history.
Dining – Shepherdstown is home to some unique dining experiences. There are a number of one-of-a-kind and locally-owned restaurants.
Maria's Taqueria is a hidden gem in Shepherdstown. This quaint little restaurant is a favorite among locals and visitors alike. Maria's dishes out Latin food that is sure to take your taste buds on a trip.
Sitting in a building once belonging to the Independent Newspaper, you will now find restaurant The Press Room. This building may not be home to a newspaper any longer, but The Press Room serves up some news-worthy food!
If you are craving something sweet, take a walk down to the Shepherdstown Sweet Shop. This sweet shop may be housed in a 200-year-old building, but the bakery serves some freshly made treats for you to enjoy.
This are just a taste of what makes the Canal Town of Shepherdstown such an alluring place to visit. This town is overflowing with activities and must-visit places making it a trip worth taking!
Learn more about this unique town at http://shepherdstown.info/.