Harpers Ferry National Historical Park
The town of Harpers Ferry, wedged below high ridgelines and tightly packed on a small point of land at the confluence of the Potomac and the Shenandoah, is rich in history. To preserve the heritage of the town and the natural beauty of the area, the National Park Service turned it into a National Historic Park in 1944.
The park is an ideal day trip. Start with the area's natural beauty. It's an outdoor enthusiast's dream, with watersports on two rivers, hiking along the Canal and the Appalachian Trail, and strolling along the quaint streets of the town. If you're into history, you're in for a treat. Harpers Ferry showcased early American industry, great accomplishments in transportation, and of course significant events leading up to and during the Civil War.
Start at the visitor center and plan your visit. You can find brochures and information on ranger-led tours and museums in the area.
Add to Itinerary
You can now create your own itineraries to guide your C&O Canal exploration, or you can copy one of ours! Lean more about Itineraries.
Connect: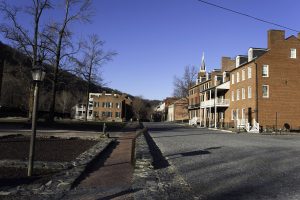 Photo by: Henry Stiles
Nearby Points of Interest:
Social Media Share: