White's Ferry
White's Ferry is a one-of-a-kind on the Potomac River. It is the last operating ferry on the river, transporting vehicles, cyclists and pedestrians from Maryland across to the Leesburg area of Virginia. (The ferry is closed as of June 2021). Learn more on White's Ferry's Facebook page.
Originally known as "Conrad's Ferry," the crossing was mentioned as far back as 1817 by Benjamin Latrobe who was transporting marble from a nearby quarry to Washington. Once the Canal was constructed, it became an obstacle to ferry access. During the Civil War, troops used a 10-foot wide culvert a mile downstream to gain access to the river's edge, but by 1865 the culvert became too narrow and a bridge over the Canal was a must.
Elijah White, a Confederate Lieutenant Colonel who owned a farm just upstream, purchased the ferry after the Civil War. The Canal company built a wooden truss bridge over the Canal, but the approaches were too steep and the bridge developed problems. Approaches were re-graded and the wooden bridge was replaced by an iron truss bridge in 1876—which still stands today.
Add to Itinerary
You can now create your own itineraries to guide your C&O Canal exploration, or you can copy one of ours! Lean more about Itineraries.
Mile Marker: 35.5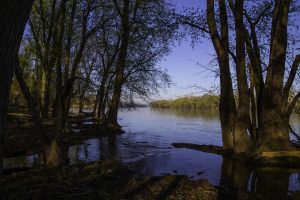 Photo by: Bruce Saunders
Social Media Share: