Williamsport C&O Canal Visitor Center
First settled in 1732, Williamsport's history dates long before this to days when Native American travelers, fur traders, and settlers would pass through Williamsport on their journey west. This quaint town sits at the convergence of the Conococheague Creek and the Potomac River – a natural pathway and a crossroads of sorts, between the East and the West.
The C&O Canal was extended to Williamsport in 1835 and brought with it the hustle and bustle of a true canal town – warehouses, shipping firms, sawmills, and small factories were established as town businesses and population expanded.
The Williamsport Visitor Center is housed in the Cushwa Warehouse along the Cushwa Basin. The warehouse, built between 1790 and 1810, predates the canal and was used to store goods until the 1970s. Williamsport is the only place on the canal where examples of major canal structures can be viewed within a half-mile stretch, including the Railroad Lift Bridge, the only Bollman Iron Truss bridge on the canal, Lock House 44 and the adjacent lock, and the Conocheague Aqueduct.
View the Visitor Center's hours here.
Add to Itinerary
You can now create your own itineraries to guide your C&O Canal exploration, or you can copy one of ours! Lean more about Itineraries.
Mile Marker: 99.6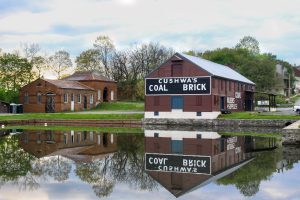 Photo by: John Gensor
Social Media Share: