Great Allegheny Passage
One hundred and fifty miles of trails connects Cumberland, MD to Pittsburgh, PA. In Cumberland, the Great Alleghany Passage (GAP) joins the C&O Canal Towpath, for another 184.5 mile long trail experience to Washington, DC. Small towns every 10 miles or so allow for bikers and hikers to experience the cultures along the GAP or stock up on amenities.
Much of the Great Allegheny Passage is built on the abandoned grades of the Western Maryland Railway and the Pittsburgh and Lake Erie Railroad. On June 9, 1978, the Western Pennsylvania Conservancy purchased the first property that would become the GAP from the Western Maryland Railway Company. Property acquisition over the years led to the christening of the GAP in 2001 – complete with its own logo.
For more information, visit their website.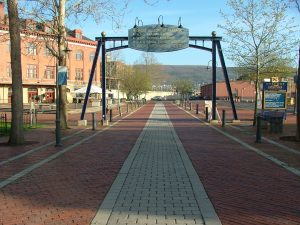 Photo by: Tina Yoder
Nearby Amenities:
Not available for this POI.
Nearby Points of Interest:
Not available for this POI.
Social Media Share: