Lockhouse 44
When you walk the towpath near Lockhouse 44 in Williamsport, ponder those whose footsteps you're following. Tens of thousands have walked here before you, including barefoot 10-year old mule drivers leading their families' boats upstream to pick up more coal, lock tenders coming back from town with loaves of bread to sell to the canawlers, and Confederate soldiers marching east to the Falling Waters crossing to escape Union forces. 
The Civil War is especially intriguing because it is nearly impossible to imagine the 184.5-mile canal being between two countries, yet it was. Being in Maryland, the canal was on the Union side. However, just across the Potomac River was Confederate territory. Throughout the war, the Potomac River and the C&O Canal were frequently crossed by troops from both sides, on the way to one battle or another.
Although Lockhouse 44 was not built until after the war, the lock itself was operational with a storehouse and mill nearby. How unnerving it must have been here during a canon barrage with the echo of artillery reverberating over the water and through the trees, with tremors shaking both boats and buildings. There was also a constant worry about Confederates disrupting canal operations by raiding the stores, confiscating boats, or blowing up dams or aqueducts. Right here at Lock 44 in 1862, the lock gates were burned along with eleven canal boats. The following year the lock gates were burnt again and part of the lock wall torn down. The war definitely took its toll on the canal.
Today, there is a tranquil stillness in the air at Lockhouse 44. 
Add to Itinerary
You can now create your own itineraries to guide your C&O Canal exploration, or you can copy one of ours! Lean more about Itineraries.
Mile Marker: 99.1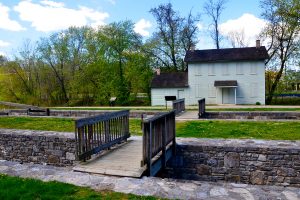 Photo by: Nancy S. Mitchell
Nearby Points of Interest:
Social Media Share: