Four Locks
Built between 1836 and 1839, these four locks (47, 48, 49 & 50) are made of blue-gray limestone from Prather's Quarry. Together raising the canal approximately 32 feet, boats could cut quickly across Prather's Neck instead of following the river bend.
The Four Locks were completed as the canal company was running out of money to pay its workers. Seizing 140 casks of gunpowder, the workers threatened to blow up the work they had completed if they weren't paid their back wages. The locks were safe, however, as the canal company confiscated the gunpowder and paid the wages.
There is a road tunnel under the locks that leads to the Four Locks recreation area with picnic tables and restrooms.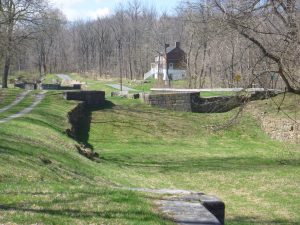 Photo by: Jim Tomlin
Nearby Amenities:
Not available for this POI.
Nearby Points of Interest:
Not available for this POI.
Social Media Share: