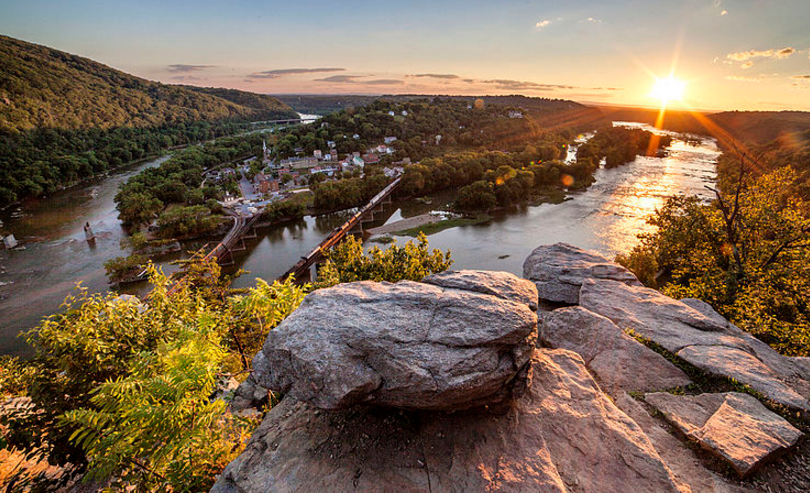 There are a variety of hiking trails in or near the Park. Probably the most well-known is the Billy Goat Trail, comprised of three sections (A,B, and C), with three different levels of difficulty.  At 1.7 miles in length, and with an estimated completion time of 2-3 hours, Section A is the most strenuous for the serious hiker. Section B offers more of a mid-level hiking challenge and is great for birdwatching in the spring, while Section C offers an easy stroll and plenty of shade for the warm summer months as well as beautiful leaf color in the fall.
Near Harpers Ferry, the canal joins the Appalachian Trail and affords several unique hiking experiences with plenty of history thrown in. Weverton Cliffs is a popular trail with steep terrain, switchbacks, and a pretty view of the Potomac River.  Maryland Heights, site of the first Civil War battle in Maryland between Confederate and Union forces, provides a wonderful view of the town. Hike up to Jefferson Rock and you'll see the view that inspired Thomas Jefferson to say "…this scene is worth a voyage across the Atlantic…"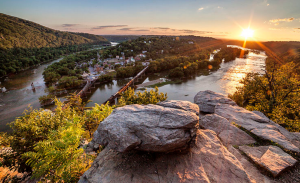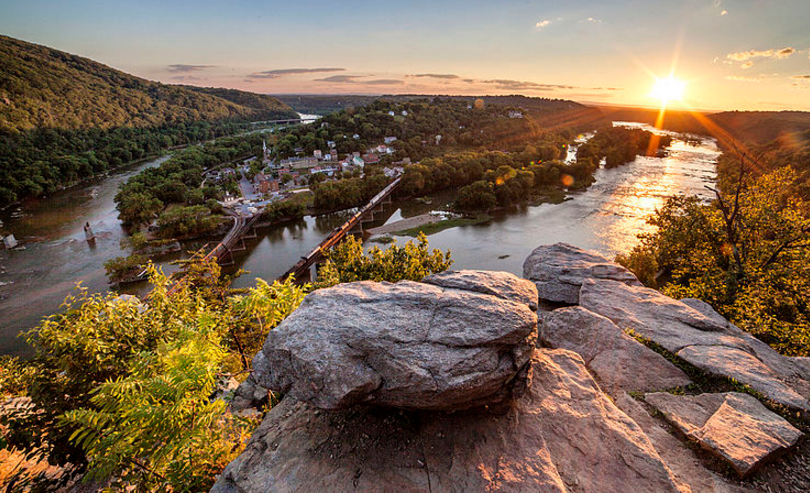 Just a hop, skip, and a jump from the towpath, near milepost 112, lies Fort Frederick – a historic stone frontier fort used during the French and Indian War as well as the Revolutionary and Civil Wars.  Continue heading west to the Town Creek area of the Park and you can access Green Ridge State Forest, the Paw Paw Tunnel, and Town Creek Aqueduct for a variety of hiking options.
View from Maryland Heights
Please check Park updates before planning your visit to ensure that trails are open. Changes in weather can affect which trails are open. News from the Park can be found here.