Maryland Heights Trail
Both hikers and history buffs will tell you the 1,200 foot climb to the overlook at Maryland Heights is well worth the trip. The green-blazed trail leads you to a spectacular view of Harpers Ferry, majestically framed by the two converging rivers. This is the vantage point of the Confederates as they shelled and captured the town in 1862. You can continue on the ridge past many marked Civil War artillery batteries to the ruins of a stone fort.
Set aside a minimum of three hours to cover the often steeply graded 4.1 mile round trip to the overlook cliffs; allow more time to explore the Civil War sites along the ridge.
The trail begins across the Potomac footbridge, then about .3 miles north on the towpath near mile 61 of the C&O Canal. Be careful crossing Harpers Ferry Road and you'll find the trailhead on the other side.
Add to Itinerary
You can now create your own itineraries to guide your C&O Canal exploration, or you can copy one of ours! Lean more about Itineraries.
Mile Marker: 61.2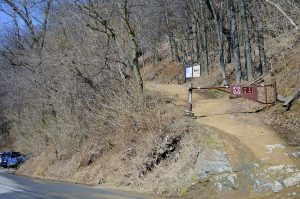 Photo by: Bud and Dell Cline
Social Media Share: