Harpers Ferry & Bolivar
Harpers Ferry is located at the confluence of the Potomac and Shenandoah Rivers where Maryland, Virginia, and West Virginia meet. This junction of two rivers made it a natural site for commerce. Bolivar (rhymes with "Oliver") is just uphill from Harpers Ferry and is surrounded by the Harpers Ferry National Historic Park. The town's history and its present-day activities have become interwoven with the more famous Harpers Ferry, WV. Thomas Jefferson called views from Harpers Ferry "perhaps one of the most stupendous scenes in nature," and "worth a voyage across the Atlantic."
In the eighteenth century, Robert Harper purchased land and established the right to operate the ferry, which had previously been established by Peter Stephens in 1733. This was the first regular ferry across the Potomac River and operated until 1824, when a bridge was built and Harpers Ferry became the first site of a railroad bridge across the Potomac. It was also the first site of a railroad intersection in the country when the B&O Railroad intersected with the Winchester and Potomac Railroad. The U.S. Armory and Arsenal were built in 1799, which spurred industrial development in the town. It was one of two armories in the United States and produced over 600,000 muskets rifles and pistols. The C&O Canal reached Harpers Ferry in 1833, furthering the industrialization of the town. The termination of the C&O Canal Company in 1924 and a series of floods in the 1930s ended industrial growth in Harpers Ferry.
Harpers Ferry is best known for John Brown's raid. In 1859, Brown and 21 men, including five African American men, raided the Federal Armory in an attempt to start a slave revolt. Brown captured several buildings but failed to incite a riot. The Civil War was disastrous for Harpers Ferry, which changed hands eight times, because of the town's strategic location on the B&O Railroad.
In 1906, W.E.B. Du Bois led a three-day meeting for the Niagara Movement in Harpers Ferry to advocate for civil rights for African Americans. In 1944, Harpers Ferry National Historical Park was established. Today, Harpers Ferry is home to more than 125 historic homes built in the 1830s and lived in by Federal Armory workers, which have been restored and are now inhabited by residents.
Harpers Ferry is unique for its intersection between the C&O Canal, the midpoint of the Appalachian Trail, Harpers Ferry National Historical Park, and the Washington Heritage Trail. It is a prime spot for recreation, and multiple outfitters lead rafting, tubing, fishing, biking, and paddling trips, as well as offer zip line courses, camping, and shuttle services.
Visit Harpers Ferry and Bolivar's website.
Download brochure: C&O Canal Trail to History: Point of Rocks, Brunswick, Harpers Ferry
Add to Itinerary
You can now create your own itineraries to guide your C&O Canal exploration, or you can copy one of ours! Lean more about Itineraries.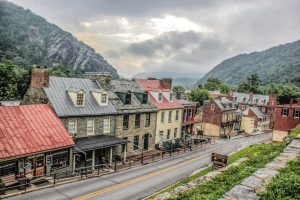 Photo by: Randy Miller
Social Media Share: