Billy Goat Trail C
The Billy Goat Trail is appropriately named.
Divided into three sections (A, B, and C), The Billy Goat Trail takes more adventurous hikers along, up and over the rocks edging the Potomac River at Great Falls. It has been popular with hikers since the 1800s.
Section C, a 1.7 mile loop that returns to the C&O Canal at Mile 10.9, is the easiest of the three sections, although there are still a few rock outcroppings to traverse. The trail offers outstanding views of the Potomac River, and a small waterfall. It's beautiful for both spring wildflowers and fall colors.
As with all Billy Goat Trail sections, hikers should wear sturdy hiking shoes, be prepared for weather changes, carry and drink plenty of fluids (never drink from the canal or river), never hike alone, and stay off slippery rocks and cliff faces.
See Billy Goat Trail C: West Trailhead and Billy Goat Trail C: East Trailhead for where to begin your hike.
Add to Itinerary
You can now create your own itineraries to guide your C&O Canal exploration, or you can copy one of ours! Lean more about Itineraries.
Mile Marker: 9.9-10.9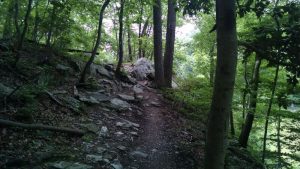 Nearby Points of Interest:
Social Media Share: