How to Use the C&O Canal Explorer Itinerary Builder
The new version of the C&O Canal Explorer mobile app, released in August 2021, includes an itinerary builder Click here to download the C&O Canal Explorer Mobile App.
Please Note:
You  must be logged in to use the itinerary builder.
You must be online to add points of interest to your itinerary.
Your itinerary will download and save to the mobile app while you are online, so it will still be accessible if you do not have cell service while you are in the Park.
How to Use the Itinerary Builder on a Desktop
Log on or create an account to use the Itinerary Builder. Both of these options are available on the Itinerary page of our website.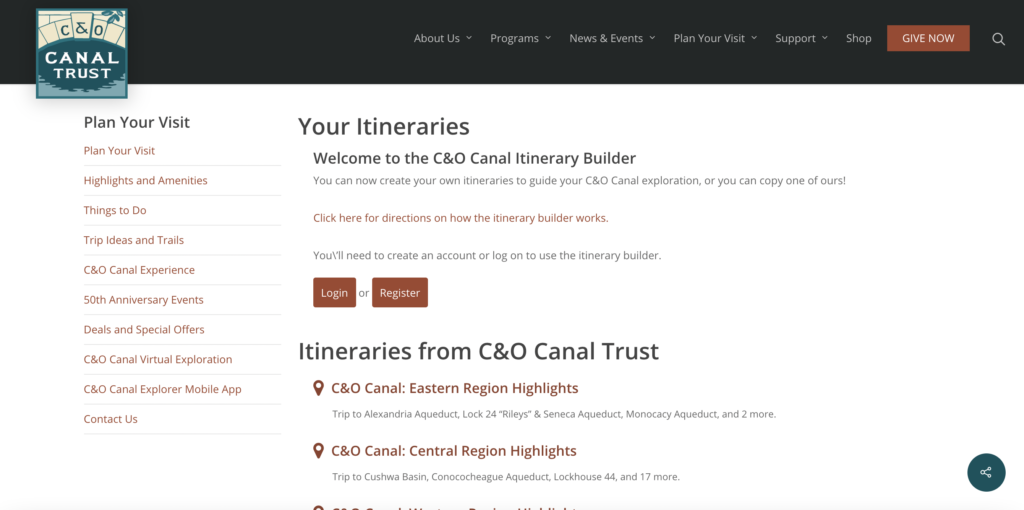 2. Explore the canal using our Plan Your Visit site. When you find a point of interest you'd like to add to your itinerary, click the "Add to Itinerary" button. An option to "Create New Itinerary" will appear — click this.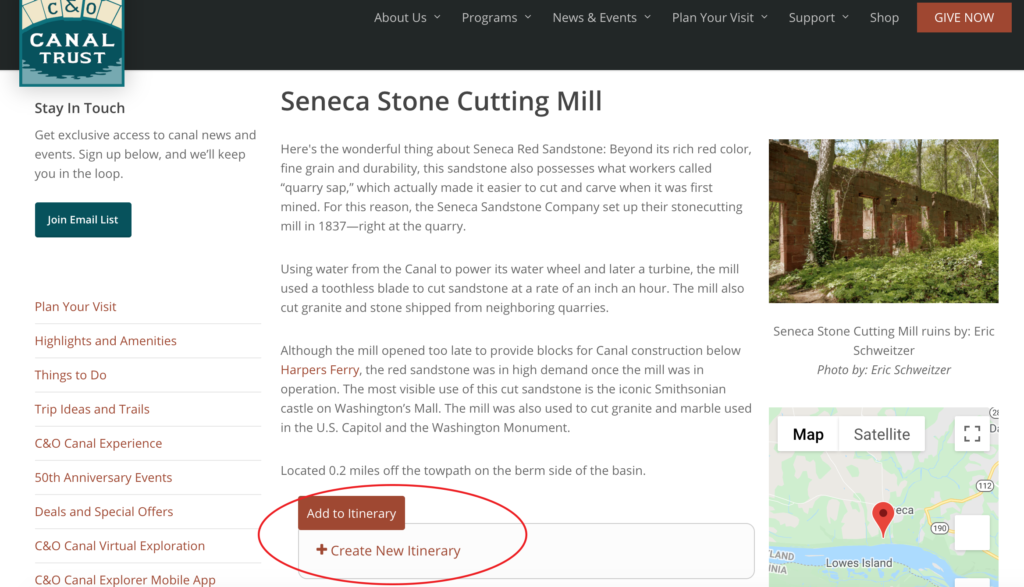 3. Give your new itinerary a name.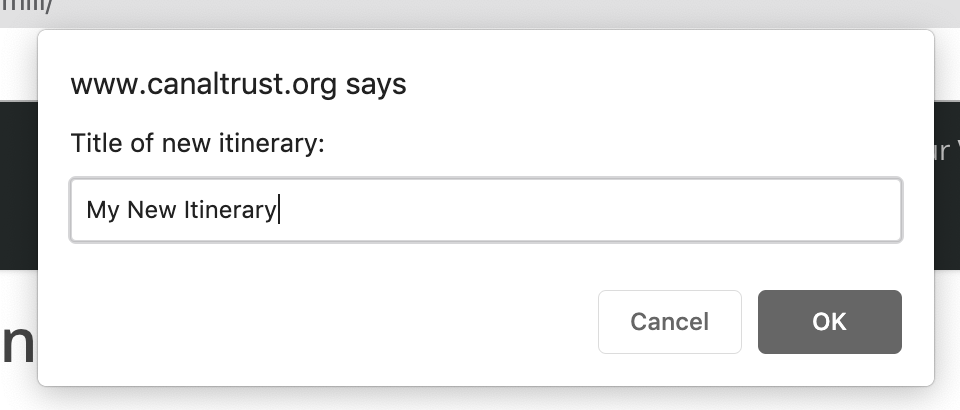 4. You will then see a screen with your point of interest added to your new itinerary. You can reorder your itinerary items by dragging the arrow to the left of the point of interest image. You can use the options across the top to rename, duplicate, delete, or print your itinerary, or view all of the points on a map.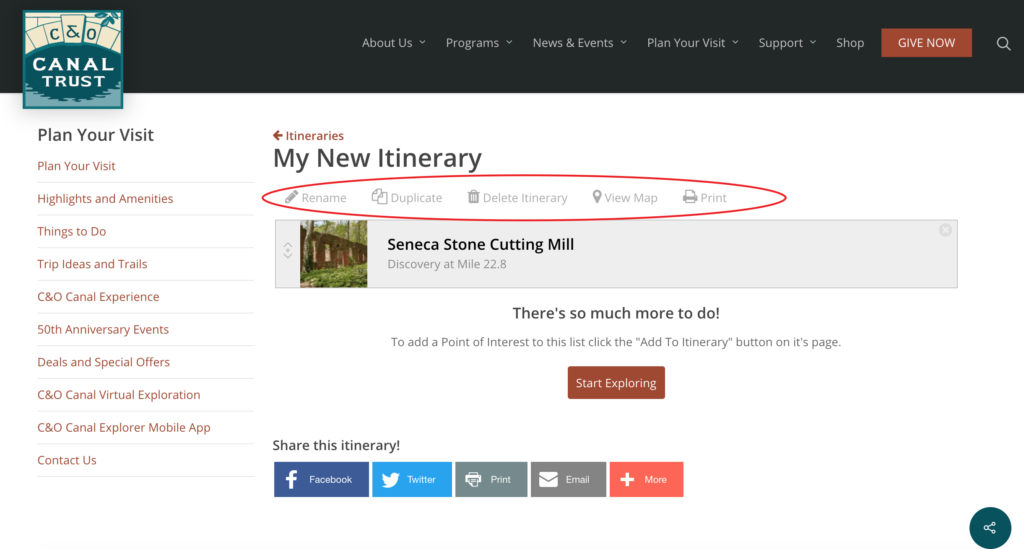 5. You can also copy the pre-built itineraries the C&O Canal Trust has developed by clicking "Save to My Itineraries" at the top of your selected itinerary.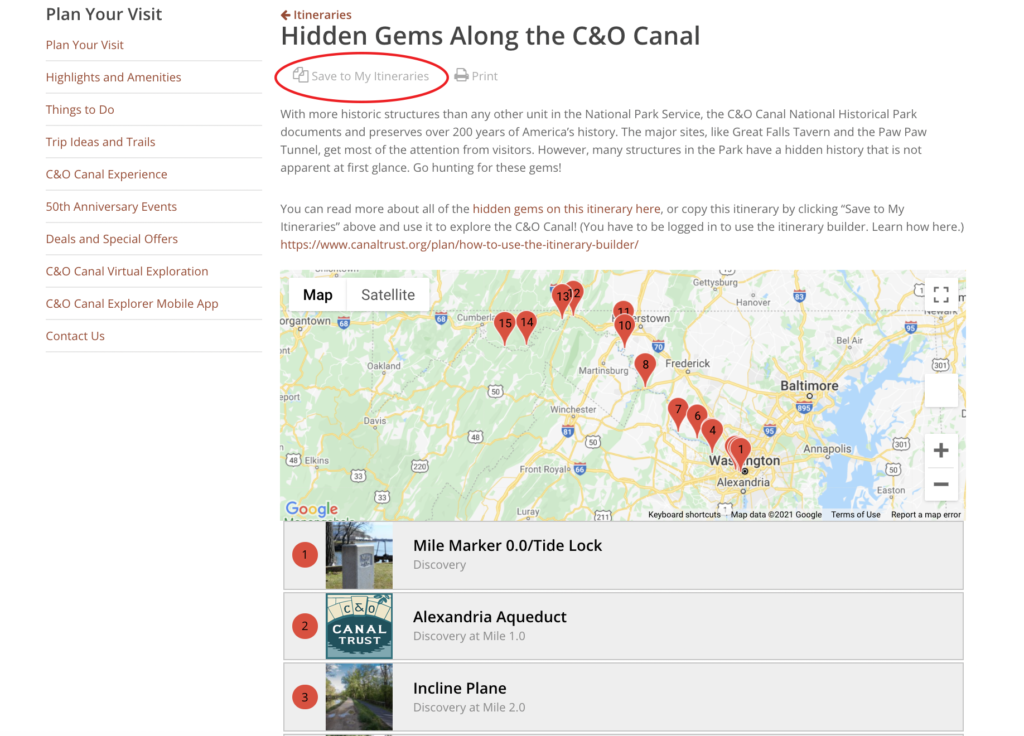 How to Use the Itinerary Builder on the Mobile App
Click on Filter icon on top of app and then Log In at bottom of screen.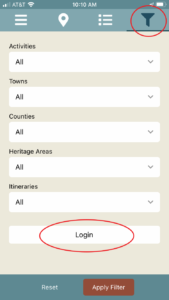 2. Enter your account username/email and password. If you don't have an account, click "Register" to create an account.
3. After you are logged in, you can access any itineraries you have built, as well as itineraries created by the C&O Canal Trust, by clicking the "Manage Itineraries" link in the main menu. You should access your itineraries while you are connected to the internet; they will then download to the app to be accessible even if you don't have internet coverage in the Park.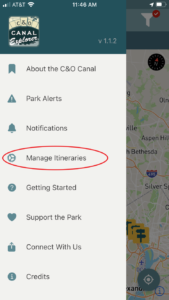 4. This screen will show any itineraries you have built (where the red circle is – this account hasn't built any itineraries yet), and below are the itineraries created by the C&O Canal Trust.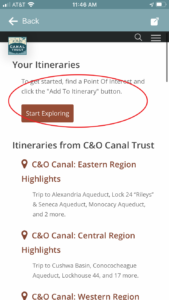 5. You can also view itineraries from the Filter screen.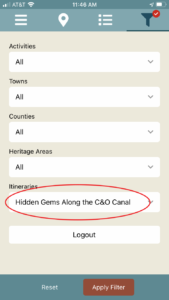 6. When this filter is applied (red check on Filter icon shows it is applied), you will see the points of interest included on that itinerary on the Map and List views.