Lock 44
The gray and white limestone Lock 44 is located adjacent to downtown Williamsport, with an earthen dyke that leads over to Main Street.
Those who are interested in Canal infrastructure should note that examples of major canal structures are all on display along a half-mile stretch of towpath at Williamsport. In addition to Lock 44 and its two-story wood frame lockhouse, the Williamsport area also offers a re-watered section of the Canal, the Cushwa turning basin and the Conococheague Aqueduct. As a bonus, you can see one of the few remaining Bollman Iron Truss Bridges crossing the Canal here.
Add to Itinerary
You can now create your own itineraries to guide your C&O Canal exploration, or you can copy one of ours! Lean more about Itineraries.
Mile Marker: 99.1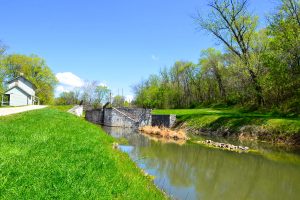 Photo by: Nancy S. Mitchell
Nearby Points of Interest:
Social Media Share: