Lock 23 (Violettes Lock) & Dam No. 2
Named for Alfred Violet (or Violette), who was the last locktender to work this lock, Violettes Lock is a double lock made of the red sandstone distinctive of the Seneca quarry. Dam 2 once also laid here, but years of wear have reduced it to rubble. During the CCC restoration project of 1938-1942, the canal was watered from Lock 23 down to Georgetown, and is now a popular spot for fishing and canoeing.
Add to Itinerary
You can now create your own itineraries to guide your C&O Canal exploration, or you can copy one of ours! Lean more about Itineraries.
Mile Marker: 22.1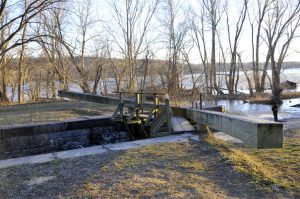 Photo by: Tom Kimbis
Social Media Share: