Georgetown
Georgetown was established in 1751 and was a busy port town that was home to textile mill, paper factory, and flour mills. Construction of the C&O Canal began in 1828 and provided an economic boost to the area with transportation of goods such as tobacco, sugar and molasses from the West Indies, and salt from Europe. Coal and flour industries became important as cheap power for the mills was provided by the C&O Canal. It's location along the Potomac River waterfront afforded it many benefits, both commercial and cultural.
Notable figures in our nation's history lived or worked in Georgetown including Thomas Jefferson, Francis Scott Key, and John F. Kennedy, Jr. to name just a few. The popularity of the waterfront area which is loaded with shops, restaurants, pubs and upscale hotels are just some of the reasons that it is such a great destination for business and leisure today.
Add to Itinerary
You can now create your own itineraries to guide your C&O Canal exploration, or you can copy one of ours! Lean more about Itineraries.
Mile Marker: 0.4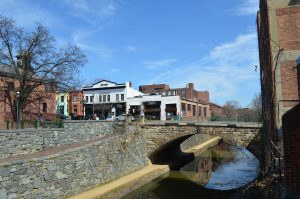 Photo by: Carole Lewis Anderson
Social Media Share: