Western Maryland Scenic Railroad
In the 19th century, Cumberland was one of the East Coast's major transportation hubs. The National Road, the Baltimore & Ohio Railroad, and the C&O Canal shipped and received raw materials and products by road, rail, and water. To compete with the B&O Railroad monopoly, Maryland chartered the Western Maryland Railway in 1853. The railway ran north and west from Baltimore and reached Cumberland in 1906. By 1913, the Cumberland station was constructed. The Western Maryland Railway, ironically, fell into the hands of the B&O Railroad and was closed in the 1970s. It remains active today for visitors and makes daily train rides from Cumberland to Frostburg.
The Western Maryland Scenic Railroad is a Canal Discovery! Read a Park Ranger's story and view other multimedia on our Canal Discovery page.
Connect: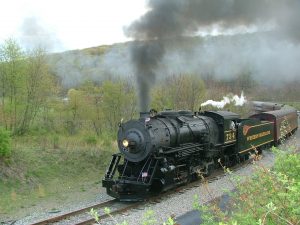 Photo by: Tina Yoder
Nearby Amenities:
Not available for this POI.
Nearby Points of Interest:
Not available for this POI.
Social Media Share: