Allegany Museum
The Allegany Museum inspires visitors to discover the unique heritage of our region and its contribution to our nation's development. It enriches intellectual, cultural, and economic life through collection, preservation, exhibition, and by offering educational programs. The museum strives to become a national destination for heritage tourism.
The museum currently has a collection of over 50,000 items. Exhibitions trace Allegany County history from the first Native American residents 12,000 years ago to the early European settlers and the growth of industrialization in the 19th and 20th centuries. Historically, Cumberland has been known as a transportation hub, home to the first federally funded highway, the terminus of the C&O Canal, and the center for the railroad industry.
Special tours may also be arranged and group tours are welcome. For details, please email - [email protected].
The Allegany Museum is a private, non-profit 501 (c)3, volunteer organization. Admission is free, but donations are welcome.
Add to Itinerary
You can now create your own itineraries to guide your C&O Canal exploration, or you can copy one of ours! Lean more about Itineraries.
Connect: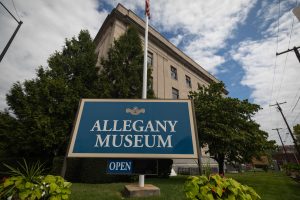 Photo by: Allegany County
Nearby Points of Interest:
Social Media Share: