George Washington's Headquarters
George Washington's Headquarters is a historic log cabin in Cumberland. What may seem unimpressive is the actual living quarters and office George Washington used between 1755 and 1758 during the French and Indian War. He and his staff lived and worked here. Washington also used it briefly during the 1794 Whiskey Rebellion as the Commander in Chief. This site is notable as it signifies Washington's first military command.
Built by General Edward Braddock's men for Washington, its original site is located at 16 Washington Street, about 2 blocks from its current site. It is the only building to survive from the original Fort.
Though "closed" to the public, the cabin has windows visitors can peer into and see historical displays and artifacts of what the cabin may have looked like – including a bed, desk, and fireplace as well as a life-size wax replica of Washington.
Add to Itinerary
You can now create your own itineraries to guide your C&O Canal exploration, or you can copy one of ours! Lean more about Itineraries.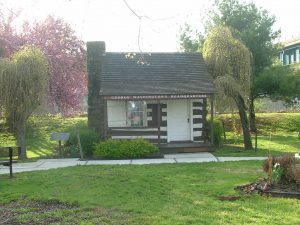 Photo by: Tina Yoder
Social Media Share: