National Road and Monument
Before highways and railroads, travel was difficult. One could travel by water, but only to towns and settlements on the coast or a river. The National Road (or Cumberland Road) was the first major improved highway in the United States built by the Federal Government. About 620 miles long, the National Road connected the Potomac and Ohio Rivers and allowed thousands of settlers to begin their journey West. Construction began in 1811, and the first part of the National Road connected the headwaters of the Potomac River at Cumberland, Maryland, through the Cumberland Gap in the Alleghenies, to Wheeling, West Virginia. Construction ended in Illinois when funding ran dry. In the 1870s, railroads became more popular, and the National Road was utilized less. In the 1920s, the automobile was invented and by 1926, the road was part of U.S. 40 as a coast-to-coast highway.
A newly erected monument -- located at the approximate start of the National Road's original route on Greene Street at Riverside Park -- commemorates the 200th anniversary of the National Road. Previously, only a small concrete marker in a traffic island marked this historic spot.
Add to Itinerary
You can now create your own itineraries to guide your C&O Canal exploration, or you can copy one of ours! Lean more about Itineraries.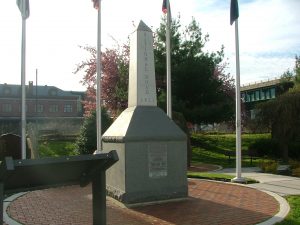 Photo by: Tina Yoder
Social Media Share: