Mule Statue at Canal Place
A mule and his driver are cemented in time here at Canal Place. A popular photo site, the statue sits in front of the former Western Maryland Railway station, now used as the headquarters and visitors center for the Canal Place Heritage Area. The statue signifies Cumberland's role in the C&O Canal. Mules were used to tow boats along the Canal because they were cheaper to purchase than horses and were less prone to illness and injury. The mule and driver statue was erected in 2000 and is made of bronze.
Add to Itinerary
You can now create your own itineraries to guide your C&O Canal exploration, or you can copy one of ours! Lean more about Itineraries.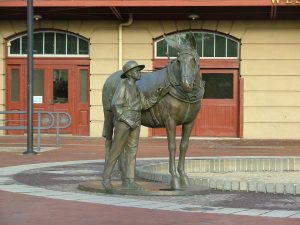 Photo by: TIna Yoder
Social Media Share: