Start of Towpath
From Mile 0, Rock Creek and the Rock Creek Park Trail, take a left toward Georgetown onto the modern version of the towpath, which starts as a brick path on the side of the C&O Canal farthest from the river. When the Canal was operational, the mules actually walked on the river side of the Canal to avoid the wharves. At 29th street they crossed over the Green Street Bridge.
Through Georgetown, the banks of the Canal are lined with stone to appease 19th century city residents who didn't like the idea of a muddy channel running along M Street. Some had hoped that the Canal should be protected by stone for its entire length to facilitate the use of faster-moving steamboats.
Add to Itinerary
You can now create your own itineraries to guide your C&O Canal exploration, or you can copy one of ours! Lean more about Itineraries.
Mile Marker: 0.3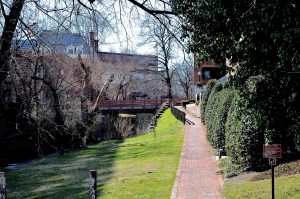 Nearby Points of Interest:
Social Media Share: