Douglas Bust
Why does the bust of a former Supreme Court justice hold a place of prominence near the Canal in Georgetown? The answer? Because of a very high profile dare.
After the federal government acquired the C&O canal for $2 million in 1938, several plans for its future were being discussed. The Army Corp of Engineers wanted to build fourteen dams along the Potomac River, flooding historic Harpers Ferry and many Canal landmarks. Another plan, which gained the support of The Washington Post, would turn the Canal corridor into an automobile parkway.
Recognizing the value of preserving the C&O Canal as a linear park, Supreme Court Justice William O. Douglas challenged editors of The Washington Post and Evening Star to walk the Canal with him, saying "One who walked the Canal its full length could plead that cause with the eloquence of a John Muir."
Douglas, six colleagues, and the two editors who accepted the challenge completed the 184.5-mile hike in March of 1954. Their journey downstream along the Potomac sold the editors. Shortly after, the Post changed its editorial stance to favor preservation of the C&O Canal.
Add to Itinerary
You can now create your own itineraries to guide your C&O Canal exploration, or you can copy one of ours! Lean more about Itineraries.
Mile Marker: 0.4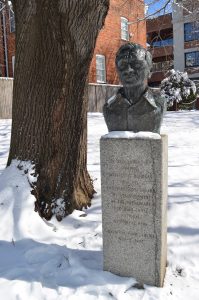 Douglas Bust snowy - Carole Lewis Anderson
Photo by: Carole Lewis Anderson
Nearby Points of Interest:
Social Media Share: