Sandy Hook
Sandy Hook's location and surrounding geographical features make it a natural gateway into Harpers Ferry from the Maryland side—and a busy little town before and during the Civil War. Here are the highlights:
John Brown's raid of the federal armory at Harpers Ferry took place in October of 1859, but Brown first set foot in Sandy Hook several months earlier, boarding there for a few days.
The night watchman of the armory who was taken prisoner during the raid walked from his home in Sandy Hook.
A platoon of marines arrived at Sandy Hook on the B&O railroad the day after the raid with instructions to wait for Colonel Robert E. Lee.
At the beginning of the Civil War, Colonel John White Geary and his Pennsylvania regiment arrived in Sandy Hook. The regiment became river border guards down to the mouth of the Monocacy.
During the Antietam campaign, a Union detachment led by Colonel William P. Maulsby was stationed at Sandy Hook. Another Union Colonel, Miles Dixon, ordered Maulsby to withdraw from Sandy Hook, saying it was "indefensible." Dixon's loyalties were called into question when he also abandoned the Union line of defense on Maryland Heights.
Add to Itinerary
You can now create your own itineraries to guide your C&O Canal exploration, or you can copy one of ours! Lean more about Itineraries.
Mile Marker: 59.5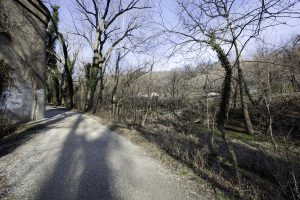 Photo by: Henry Stiles
Nearby Points of Interest:
Social Media Share: