Lock 33
Lock 33 of the Canal was a place of commerce situated close to the town of Harpers Ferry, just across the Potomac from town. The lock also sits below Maryland Heights, a high ridge that overlooks the Harpers Ferry. Because of its location, Lock 33 was surrounded by sheds, stores and houses. Built of Virginia granite, the lock featured a distinctive masonry arch on the exit end of the bypass flume.
As with any location that provided a strategic geographical advantage, Maryland Heights saw its share of attention from both Union and Confederate troops during the Civil War. Early in the war, the ridge was occupied by Colonel Thomas Jackson (before he was nicknamed "Stonewall"). When Jackson withdrew, Union forces led by Abner Doubleday moved into position with artillery. Then, in 1862, Robert E. Lee's men captured the Heights during the invasion of Maryland and forced Harpers Ferry to surrender.
Add to Itinerary
You can now create your own itineraries to guide your C&O Canal exploration, or you can copy one of ours! Lean more about Itineraries.
Mile Marker: 60.7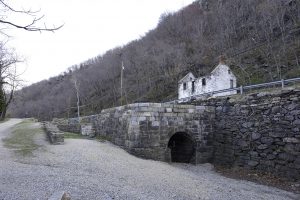 Photo by: PATC GPS Rangers
Photo by: PATC GPS Rangers
Nearby Points of Interest:
Social Media Share: