John Brown's Raid
The name of John Brown and the town of Harpers Ferry will always be remembered together.
Prior to the Civil War, Harpers Ferry had become an industrial town, both as the site of a federal armory and several private enterprises including Hall's Rifle Works, a machine shop, flour mill, saw mill, oil mill, and a tannery. The town was experiencing its own industrial revolution into the mid 19th century.
The armory was the target of militant abolitionist John Brown. With the hope that his actions might inspire the anti-slavery movement—or even provide arms to local slaves and freedom fighters—John Brown and a small group of supporters captured the federal armory for a short time and took several hostages. Although the raid on the armory was squelched in less than 36 hours and John Brown was hung six weeks later, his largely symbolic act furthered the growing unrest between the north and the south.
When Civil War finally broke out, Virginia quickly took charge of the armory and moved much of the machinery to Confederate armories in Richmond and Fayetteville, NC. Many of the armory workers followed.
Add to Itinerary
You can now create your own itineraries to guide your C&O Canal exploration, or you can copy one of ours! Lean more about Itineraries.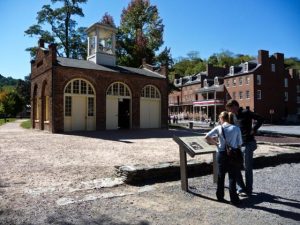 The armory at the base of town is the site of the John Brown raid in 1859. Credit: C&O Canal Trust
Photo by: David P. McMasters
Nearby Amenities:
Not available for this POI.
Nearby Points of Interest:
Not available for this POI.
Social Media Share: