Lock 36
This gray limestone lock is located just down the hill from the former Fort Duncan, built in 1862 by the Army of the Potomac to protect Harpers Ferry. Harpers Ferry was captured during the Antietam campaign by Confederate general A.P. Hill. Union general  George McClellan didn't want it happening again. Two years later, the fort's 16 cannons helped to thwart Confederates led by Jubal Early as they attempted to reach Washington, D.C.
If you visit Lock 36, you'll be rewarded with a two-for-one lock sighting. Follow the Canal downstream a tenth of a mile to find Lock 35, which also served as a drydock repair center.
Boats were floated onto stop planks, then the water was drained from the drydock through the sidewalls leaving the vessels high and dry for repairs.
Add to Itinerary
You can now create your own itineraries to guide your C&O Canal exploration, or you can copy one of ours! Lean more about Itineraries.
Mile Marker: 62.5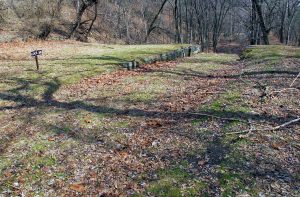 Photo by: Bud and Dell Cline
Nearby Points of Interest:
Social Media Share: