Guard Lock for Dam 3
Just upstream from the Dam No. 3 site, you'll find the remains of the guard lock for the dam. Made of gray limestone, this inlet lock also acted as a lift lock because it was located at a lower level than the river. The towpath crosses over the lock, which has been partially filled in. You can find the brick shell of the old lockhouse nearby.
Add to Itinerary
You can now create your own itineraries to guide your C&O Canal exploration, or you can copy one of ours! Lean more about Itineraries.
Mile Marker: 62.4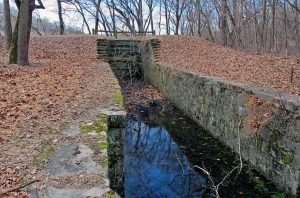 Photo by: Bud and Dell Cline
Nearby Points of Interest:
Social Media Share: