Huckleberry Hill Campsite
The Canal and the B&O Railroad were very attractive to industries of the day. Near this riverside campsite once stood the Canal landing for Potomac Refining Company's main building. The company advertised manganese, iron ore, marble and limestone deposits.
Hikers and bikers venturing south on the towpath should be advised that the next campground (Bald Eagle Island) is 12.5 miles away. All designated C&O Canal campsites provide a water source, picnic table, portable toilet and a grill. Camping for one night is free of charge.
Please Note: Potable water may not be available at each campsite. Water is treated with iodine. Please plan to have water purification tablets with you. Water is turned off from November 15 to April 15 each year.
Please visit the C&O Canal National Historical Park's website for detailed camping information, or you can call 301-739-4200 with any questions. Site reservations can be made via the Recreation.gov website.
Add to Itinerary
You can now create your own itineraries to guide your C&O Canal exploration, or you can copy one of ours! Lean more about Itineraries.
Mile Marker: 62.9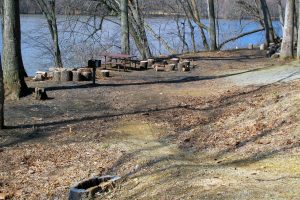 Photo by: Bud and Dell Cline
Nearby Points of Interest:
Social Media Share: