Terminus
Journeys began and ended here at the Cumberland Terminus during the heyday of the Canal. It is the same area that used to be the Main Basin – and is the end of the 184.5 mile Canal. There was not much to signal the end of a trip from Washington, D.C. at the western terminus of the Canal – but today there are sites and attractions worth exploring.
The site includes the restored Western Maryland Railroad station, which includes a National Park Service visitors' center. Nearby is a replica canal boat, interpretive signs, and retail shops at Canal Place. There has been talk of re-watering the Main Basin and re-creating the boatyard but no plans have been approved.
It is here at the Cumberland terminus that the C&O Canal towpath meets Mile 0 of the Great Allegheny Passage, a rail-trail path that stretches nearly 150 miles to the west and up to Pittsburgh, PA, creating 335 miles of continuous paths.
The Terminus is a Canal Discovery! Read a Park Ranger's story and view other multimedia on our Canal Discovery page.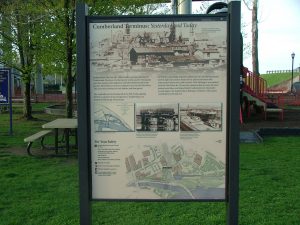 Photo by: Tina Yoder
Social Media Share: