Terminus
Cumberland may be the end of the C&O Canal, but it was also once known as the "Gateway to the West." The Potomac River cuts through the mountains in and around Cumberland, providing one of the easiest westward crossings.
In the 1750s, settlers heading west began using the Cumberland Narrows route. It was still a slow and arduous trek over the mountains. In 1811, the Cumberland or National Road was built and movement of goods and people became easier. Finally, starting in 1828, the B&O Railroad and the C&O Canal raced to Cumberland in an effort to reach the Ohio River with an even more efficient transportation system. The B&O Railroad pulled into Cumberland in 1842, followed by the C&O Canal in 1850. By the late 1800s, Cumberland had grown into the second largest city in Maryland largely because of its key location at the junction of the National Road, the C&O Canal, and the B&O Railroad. All roads led to Cumberland.
Today, from the canal towpath at its terminus in Cumberland, you can easily get the sense of Cumberland's importance as a transportation hub. At this location, you have a great view of the Narrows to the west and just across Wills Creek from the terminus is the beginning point of the National Road. The Western Maryland Scenic Railroad rolls past on train tracks over top the canal inlet locks. These tracks were laid by the Western Maryland Railway in the early 1900s, not the mighty B&O. Highway traffic snakes through the city overhead on I-68.
Journeys began and ended here at the Cumberland Terminus during the heyday of the Canal. It is the same area that used to be the Main Basin – and is the end of the 184.5 mile Canal. There was not much to signal the end of a trip from Washington, D.C. at the western terminus of the Canal – but today there are sites and attractions worth exploring.
The site includes the restored Western Maryland Railroad station, which includes a National Park Service visitors' center. Nearby is a replica canal boat, interpretive signs, and retail shops at Canal Place. There has been talk of re-watering the Main Basin and re-creating the boatyard but no plans have been approved.
It is here at the Cumberland terminus that the C&O Canal towpath meets Mile 0 of the Great Allegheny Passage, a rail-trail path that stretches nearly 150 miles to the west and up to Pittsburgh, PA, creating 335 miles of continuous paths.
Add to Itinerary
You can now create your own itineraries to guide your C&O Canal exploration, or you can copy one of ours! Lean more about Itineraries.
Mile Marker: 184.5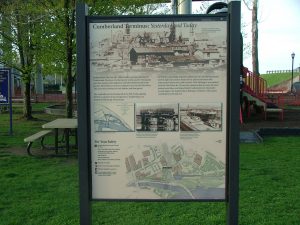 Photo by: Tina Yoder
Nearby Points of Interest:
Social Media Share: