Frederick-Washington County Line
The ridge of South Mountain is Maryland's dividing line between Frederick and Washington counties. Just below Harpers Ferry, the ridge dips to the Potomac River and rises again as Short Hill Mountain in Virginia.
Ten miles north of the Potomac, gaps in the same South Mountain ridgeline were the site of significant Civil War clashes prior to the Battle of Antietam in Sharpsburg, MD. Confederate forces attempted to delay Union General George McClellan's advance on Robert E. Lee's army.
A tenth of a mile farther upstream from the county line, a trail leads to the millrace of a former river dam and the stone remains of a cotton mill—traces of what was once the thriving mid 1800s industrial village of Weverton.
Add to Itinerary
You can now create your own itineraries to guide your C&O Canal exploration, or you can copy one of ours! Lean more about Itineraries.
Mile Marker: 57.8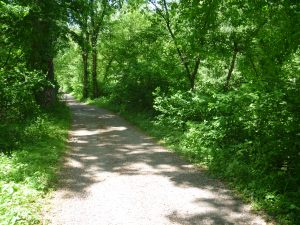 Photo by: PATC GPS Rangers
Nearby Points of Interest:
Social Media Share: