Capital Crescent Trail
Suitable for walkers, joggers, bikers and rollerbladers, the Capital Crescent Trail is a valuable off-road resource connecting Georgetown with Silver Spring, MD. It is part of a growing network of pathways and trails that enables people to get around D.C., Maryland and Virginia by their own power. Combined with the Rock Creek Trail, the Capital Crescent Trail forms an outstanding 22- mile loop.
Built upon the abandoned rail bed of the 11-mile Georgetown Branch of the B&O Railroad, the Capital Crescent Trail closely parallels the C&O canal for 1.7 miles until it takes a right turn toward Bethesda. It is one of the most popular of more than 700 rails-to-trails projects nationwide.
See Capital Crescent Trailhead for where to begin your hike.
Add to Itinerary
You can now create your own itineraries to guide your C&O Canal exploration, or you can copy one of ours! Lean more about Itineraries.
Mile Marker: 1.5-3.1
Connect: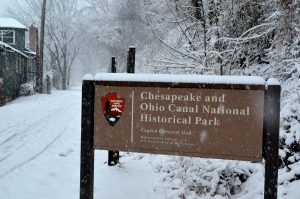 Photo by: Carole Lewis Anderson
Social Media Share: