Fletchers Cove
Fletchers Cove provides an escape to nature where you can enjoy fishing, boating, bicycling, and hiking, all without leaving the District of Columbia.
It is hard to get to, but well worth the visit. By car, Fletchers Cove is only accessible via a one-lane entrance road off of Canal Road. Past the Abner Cloud House, the road winds through a low, c. 1828 stone tunnel underneath the C&O Canal. A world of recreational possibilities lies on the other side of the tunnel.
Fletchers is a small cove leading out to the Potomac River. With Little Falls upstream, the fishing hole at Fletchers Cove is second to none. For boaters interested in slow waters or bird and turtle watching, Fletchers Cove is one of the best places along the entire canal to canoe or kayak.
Fletchers Cove is also an ideal place to start a hike or bike ride. Here, the Capital Crescent Trail crosses and then parallels the towpath. From Fletchers Cove, you can hike or bike into Georgetown, Bethesda, or go all the way to Cumberland Maryland.
At Fletchers Cove, you can rent rowboats, kayaks, canoes and bikes from the concession stand, and either picnic on the wide lawns by the cove or grab a hot dog from the snack bar.
Former U.S. Presidents Andrew Jackson, Bill Clinton, and Jimmy Carter have all visited Fletchers. It is a place where families have been coming for generations.
Add to Itinerary
You can now create your own itineraries to guide your C&O Canal exploration, or you can copy one of ours! Lean more about Itineraries.
Mile Marker: 3.1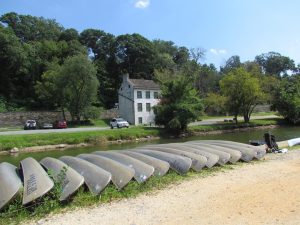 Photo by: Lucy Uncu
Social Media Share: