Lockhouse 21, locally known as "Swains" after the family who lived there for over a century, is the newest lockhouse to join the Canal Quarters program. Opened in July 2019, this lockhouse has been completely modernized and is ADA-accessible with a bathroom and Murphy bed on the first floor, ramps into the house, and hallways wide enough to accommodate a wheelchair.
The house interprets 1916, the year the National Park Service was formed and the date when the C&O Canal was beginning to transition from a working canal to a recreational space. Unique period furnishings transport visitors to the early twentieth century, and scrapbooks tell stories of a time when Woodrow Wilson was President, the United States had not yet entered World War I, and the women's and civil rights movements were gathering steam.
Lockhouse 21 features accessible parking, accessible ramps to the front door and within the first floor of the building (upon request during booking), accessible bathroom, kitchen, and picnic area facilities, and single-sized Murphy bed located on the first floor. The second floor is only accessible via stairs. The lockhouse sits beside a parking lot and is not as secluded as the other lockhouses, but is the most recently rehabilitated.
>> Learn more about the rehabilitation of Swains Lockhouse here
>> View photos of the rehabilitation here
Details
Towpath Mile: 16.7
Parking: Available
Price Per Night: $160
Additional Fees: One-time $20 maintenance fee; One-time $20 occupancy fee for groups of 6-8 only
Time Period Depicted: 1916
Nearest Communities: Potomac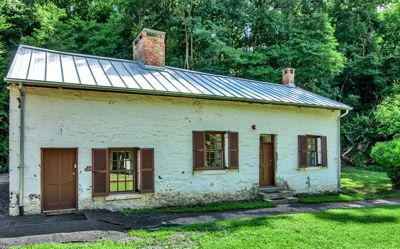 Features & Amenities
1910s kitchen with stove, oven and refrigerator
1910s bathroom with tub/shower
One bedroom with full sized bed and a trundle; One bedroom with 2 twins and 2 trundles; and an ADA-accessible Murphy bed on first floor
Central AC/heat
Fire Ring
Easy access to the Capital Beltway
Linens and pillows not provided
Fireplaces are NOT functional
Location
Lockhouse 21
10700 Swains Lock Rd
Potomac, MD 20854
Click here for directions and a map.
Check-In: 3:00 p.m.
Check-Out: 10:00 a.m.
"The whole C&O Canal trip is wonderful and staying in a Canal Quarters [Lockhouse gives] you a better sense of the times when it was operational. It was also a welcome relief to get off the bikes and into a warm house." – Canal Quarters Guest
"We took advantage of the accessibility features and found them to be so well-considered and implemented—the first floor of the house was totally accessible to my spouse, who uses a power chair. Thank you so much! Great location, of course, and perfect, close, getaway spot." – Canal Quarters Guest