We Saved Swains Lockhouse: The Rehabilitation of Lockhouse 21
Book Your Stay at Swains Lockhouse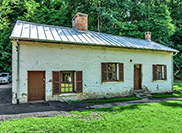 Guests can now book their stays at Swains Lockhouse! As part of the Canal Quarters program, Swains Lockhouse sleeps 8 guests, who have the unique opportunity to step back in time and live like the lock keepers once did!
Book Swains Now
About the Rehabilitation
Swains Lockhouse, the popular C&O Canal access spot in Potomac, had fallen into disrepair and had suffered from several run-ins with vandals. The C&O Canal Trust and the C&O Canal National Historical Park recognized that if we did not act, this iconic property would be lost forever!
Over the past three years, we have rehabilitated the lockhouse. It will be used as one of our Canal Quarters lockhouses, where guests can stay overnight and experience life along the canal. It will also be used as a multi-use space for interpretive programs like Canal Classrooms.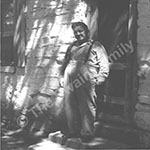 Bert Swain, who grew up in Lockhouse 21, has shared some of his family stories in three of our most popular blog posts:
We encourage you to follow along on our blog as we detail our work to bring this historic lockhouse back to life, and to visit our photo album to see pictures of Swains then and now.
Canal Quartermasters' Perspectives
In 1954, Supreme Court Justice William O. Douglas famously joined the effort to protect the C&O Canal's unique beauty and preserve it as a "sanctuary for everyone." Thanks to Justice Douglas and countless others, visitors can continue to marvel at its wild serenity. Picking up this torch of appreciation and advocacy for the Canal is a special group of C&O Canal Trust volunteers called Quartermasters, who help to maintain the lockhouses and assist guests of the Trust's Canal Quarters program. (more…)
Spend a Night in a Historic Lockhouse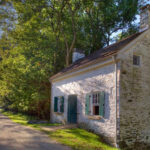 When Swains Lockhouse is finished, it will join the Canal Quarters program, which features historic lockhouses available for overnight stays. Learn more and book your stay here.
Book Now
Thank You Sponsors
France-Merrick Foundation
Maryland Heritage Areas Authority – Heritage Montgomery
Eastern National
C&O Canal Association
The Friends of the Historic Great Falls Tavern
Robert A. Pascal
Knight and Ann Kiplinger
The Kiplinger Foundation
A.R. Landsman Foundation
C&O Canal Association
Steve and June Chaudet
Paul and Gail Chod
Preservation Maryland
Maryland State Questers – Captain John Chapter
John and April Delaney
Ashby and Katie Chamberlin
John Guttmann and Holly Cannon
Traci Hoffman
Ted and Grace Anne Koppel
Mike and Sue Mitchell
Bud and Dell Cline
Becky Curtis
Kettner and Dana Griswold
Mary Kenzie
John and Rachel King
Keith McConnell
Michael and Kathie Williams